Brand Building & Performance Marketing – Finding The Balance
Point of view
Battling between two opposing viewpoints is something we see a lot of in today's world, and marketing is no exception.
The theory of long vs short is one of the most critical viewpoints in our industry today. The short in this scenario is performance marketing, which produces an immediate impact by driving numbers, getting sales leads and conversions. The long is brand building, which tends to be slower moving but is critical for solid gradual growth over a longer timeframe.
You'll note in this instance, and probably in most others, both perspectives might be opposing each other but still be equally valid in their place. So, rather than looking to pick a side and some brownie points, it might be better to explore the notion that both viewpoints, together, make the most sense.
The pandemic's impact
Budgets have been under unprecedented pressure, with 2020 leading some deep cuts into marketing investment. It's never been more critical to make every £1 spent on marketing work as hard as it possibly can. Brands such as Coca-Cola had to pause their advertising during the worst of the pandemic months. Their CEO James Quincey asked during a Q2 earnings call in July 2020. "We thought no marketing is going to make much difference in the second quarter, so we pulled back heavily."
As a result, we see the pendulum and spend shifting in favour of performance marketing which is understandable. The CEOs, CFOs, and P&L owners first need to deliver today, show results today to even have a tomorrow. As Raja Rajamannar, CMO MasterCard, points out in his latest book, the C-suite perceives brand metrics to have more mid to long-term impact on business results, whereas sales have a more immediate effect. The brand impact is over the long term, but we are all dead anyway in the long term. So why worry about the brand, right? Wrong
Why does brand matter?
If performance marketing takes care of the brand today, businesses need brand-building to take care of tomorrow. Every brand has a 'demand ceiling' – in short, the number of people in the market who need the category product/service. At any single point in time, there is a finite amount of demand for a brand. That existing demand is available to be captured and converted to sales with performance marketing. But as that demand is exhausted, sales conversion and performance marketing become less effective, less efficient, and more expensive.
If we wait until all existing demand is exhausted before generating new demand, brands experience a painful period where sales flatline or drop or become extremely expensive to activate. You could argue that this is the valley where many brands die.

Converting existing demand (performance marketing) and creating future demand (Brand building) is critical to sustained growth and need to coincide.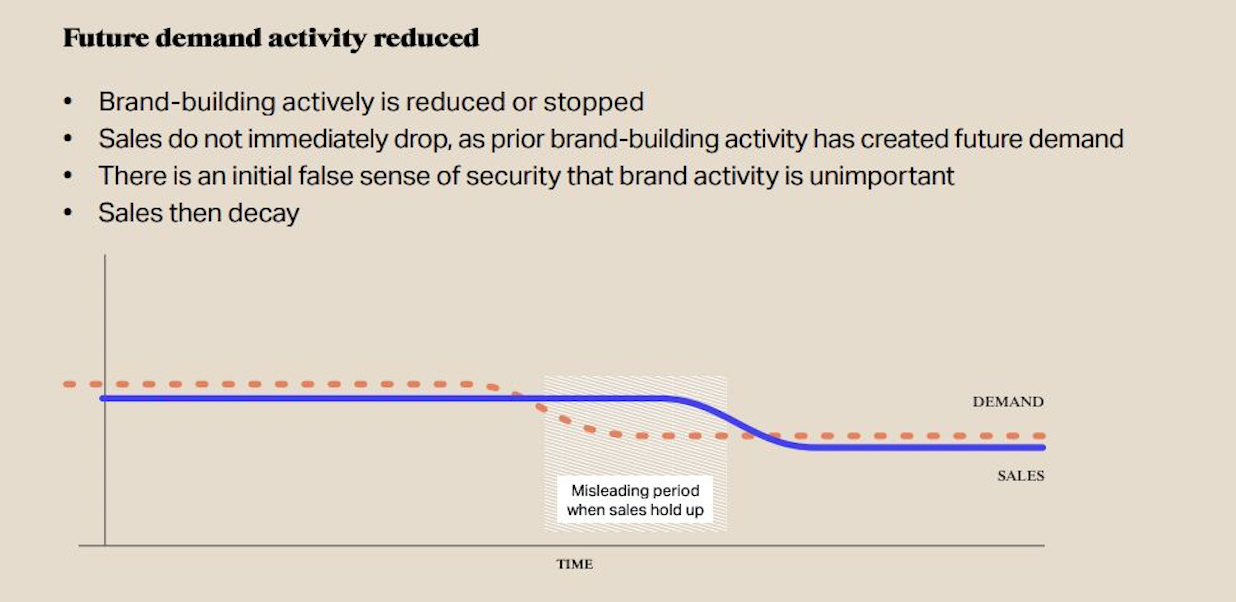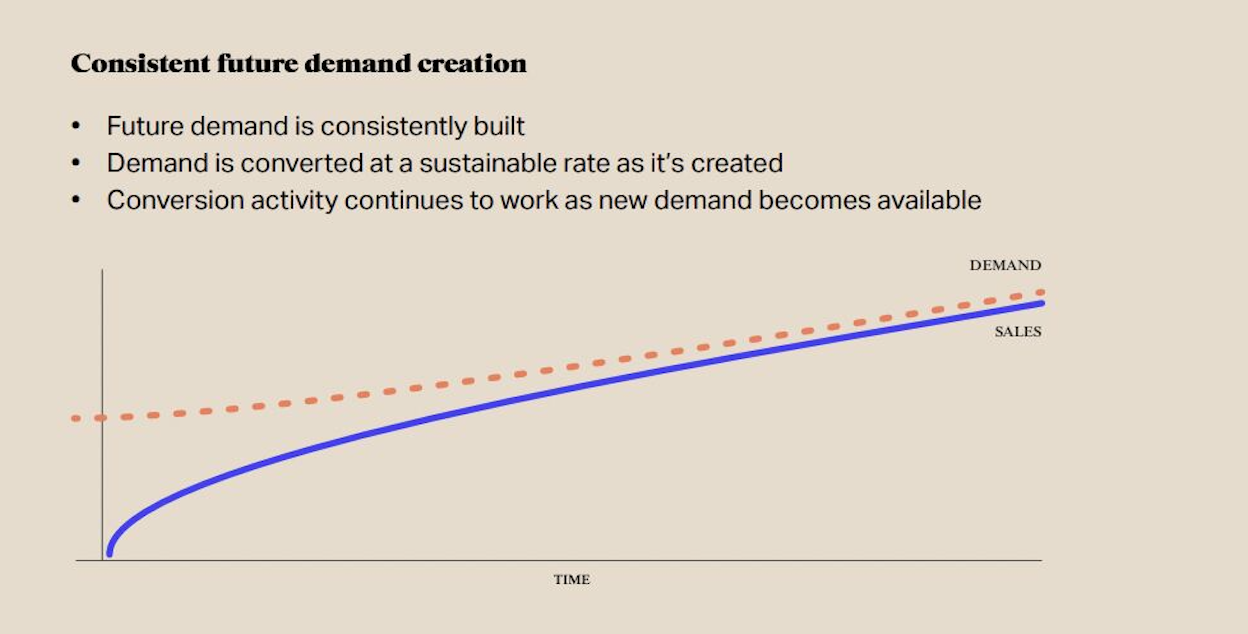 However, creating demand takes longer and is more expensive than converting demand, which means we need to spend more on-demand creation than demand conversion.
Therefore, the data show that the most influential brands spend more of their overall budget (60%) on brand-building than sales activation activity (40%). This ratio is even more pronounced for online-only brands – Peter Field and Les Binet have shown the optimal mix to be 76% brand and 24% sales activation for online brands – demand conversion is very efficient online. At the same time, brand-building is a little more complicated.
Performance marketing from a strong brand
Performance marketing is only sustainable when future demand has been generated, and the sales funnel has been factored into long term activity planning. A recent Facebook study has shown how the cost per acquisition for one brand fell as awareness increased. For marketers who scrutinise cost-per-acquisition, brand-building should be a key factor.

Marketers need to understand the trade-offs and limitations of performance marketing. It's a valuable tool for converting existing demand but ill-equipped to create future demand. It isn't that it's impossible to generate future demand with tightly targeted and rational performance marketing comms – it's just much more complex and much more expensive.
Prior research from the EhrenbergBass Institute has shown that brands grow over the longer term and create that future demand when advertising reaches broad audiences (rather than tight segments), stands out and is well branded with creative that cuts through and engages our emotions (brand building) rather than trying to persuade on a rational basis (performance marketing).
The argument of both
We've never been more aware that there may not even be a long-term for some brands without short-term success. And the best way of securing both will be to embrace the fertile middle-ground that lies in combining the power of short and long-term effects.
The two are connected, influence each other, and if you get the two workings ideally in harmony together, you'll achieve the most robust, most sustainable growth possible. So one of the first steps a brand needs to take to combine brand and performance is to have a long look at their traditional funnel as a whole.
TOFU and BOFU (top of funnel and bottom of the funnel) obscure the power of stepping back and seeing the whole funnel and using that complete, connected view to inform strategy. Instead, platforms like social now allow us to engage deeply and hit an emotional chord with your audience by understanding attention, relevance, and culture on the respective channels where your audience are spending their time, aiding demand generation. All that while also providing a fertile ground to convert all that demand using new commerce formats and stand-out creative capabilities for a brand to capitalise on.
As we look towards a post-pandemic recovery in the budgets, we need to take this opportunity to rethink the way we talk about brand building and performance marketing – and reframe it for this new world of social commerce and algorithms.
If you'd like to have a conversation about how we can evolve the thinking behind your paid media and outbound strategy for your brand, feel free to drop us a line at info@1000heads.com 😉. We'd be happy to help you!