The Evolution of the Media Plan
Our thoughts
Social is no more just 'another' channel for today's brands. It's where brand and performance come together. With the massive behavioural shifts we are seeing within the industry and media landscape post-COVID, I wanted to share my thoughts on how the modern media plan needs to evolve in order to cater to these changes and reach the customers where they are: at the intersection of brand & performance.
Marketing is divisive. It always has been.  
Top funnel vs Bottom funnel. Intuition vs Data. Purpose vs Profit. Paid vs Organic. Brand vs Performance. The list goes on. There aren't many who take the middle ground but I think that's exactly where the modern media plan is heading towards and where it needs to be.
Why? Because the customers are already there
Customers want utility AND a shared purpose.
They want faster access AND better quality.
They appreciate discounts but will pay more if they believe in your products/ services.
They will engage with brands but not if they come across inauthentic.
This behavioural shift has only gained more traction during the pandemic.
Combining Social & Commerce
You can't help but notice how the last 12 months have forced brands on social media to become good listeners, be more human, conversational, authentic, and empathetic with their communications. It's now deemed acceptable if the customers do not buy right at the moment they see your ad. At the same time, the pandemic has also accelerated digital transformation and as a result, the consumer's adoption of social commerce capabilities and trends are also at an all-time high.
Social Commerce has gained traction specifically because of its shortened user journey by compressing the discovery, purchase, inspiration & transaction. It does this successfully due to its unique ability to combine brand and performance elements.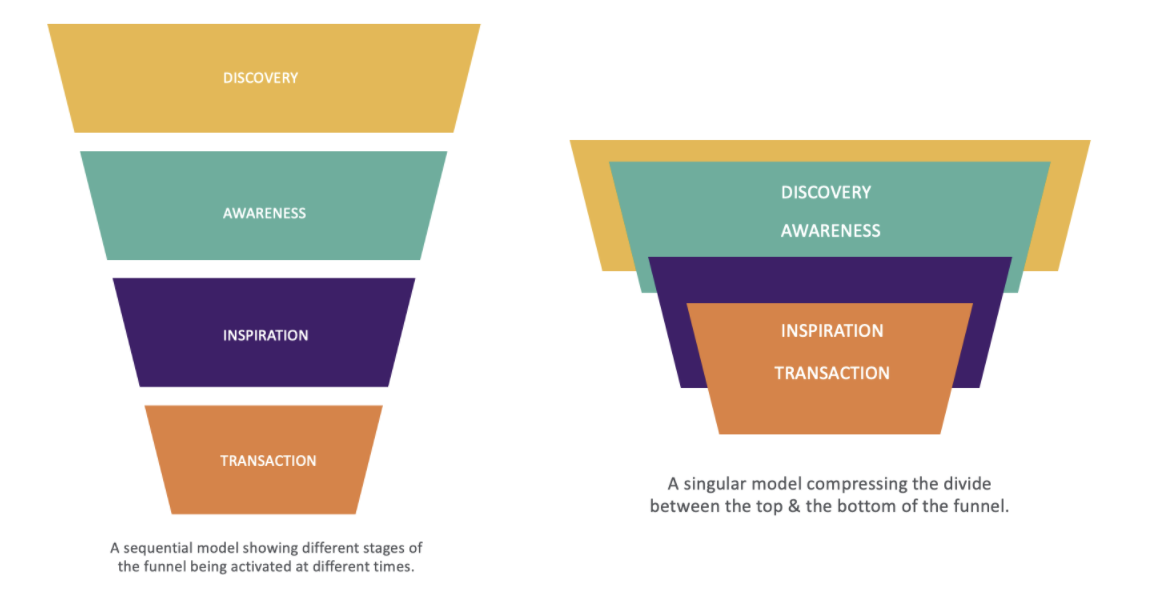 Increasing your brand's performance
The modern media plan needs to do the same. It needs to meet the customer, at the intersection of brand & performance, inspiration & transaction – Paid & Organic.
Brands are now being strong-armed into bridging the gap between the top and bottom of the funnel. It used to take time to move from product research into the discovery phase, then to awareness and finally all the way to purchase. But, with the accelerated digital adoption and social commerce, it's happening faster than ever.
Brands need to understand that the funnel is not about them. It's about the customer. Customers are not going to interact and engage with adverts to identify with their purchase journey ("Oh, this is my consideration phase ad!") and wait for the grand finale of a conversion ad.
The Direct To Consumer model is a great example of how some brands are successfully bridging that gap in the funnel. From Mindful Chef subscription boxes to Harry's Razors, having a more direct route to the market helps tie up loose ends in the customer's journey which is crucial because a lot of the distance between brand and performance is caused due to these broken customer journeys.
Creativity and Business Outcomes
The modern media plan should help us take a step back for a minute and have a complete view of our customer funnels to connect creativity directly towards business outcomes, which will eventually result in connecting the brand with its performance.
Algorithms together with people create the context into which social advertising arrives today and in turn, this has created a secondary layer of creativity and culture that brands can't afford to ignore in their Paid strategy.
When consumers are scrolling through their feeds, ads will make them scroll even faster, some ads will make them pause momentarily however some ads will make them pause, bookmark and remember the brand.
Achieving this is no easy feat by any means and requires all the elements of media planning, brand building & creative development to come together. One could say that Paid social's creative opportunities have evolved at a faster pace than their creative application. The creative possibilities of the social ad formats today allow us to bring all the above elements together. One look at H&M's Ad library and you can see how it all comes to life.
The evolution of the media plan is about not restricting it to solely buying media whilst providing impressions and reach estimates in a spreadsheet, but it is to understand attention, relevance and the ever-evolving culture on the respective channels where loyal customers are spending their time.
As brands increasingly funnel money into social channels, both brand building and achieving performance on these platforms has become more important than ever. To get this right, the modern media plan will need to pave the way for the compounding effects of getting them working together in harmony and start to close the value-destroying divide between them.
If you'd like to have a conversation about how we can evolve the thinking behind your paid media and outbound strategy for your brand, feel free to drop us a line at info@1000heads.com 😉. We'd be happy to help you!