Five Ways Social Media Has Moved From Filtered AF To Real AF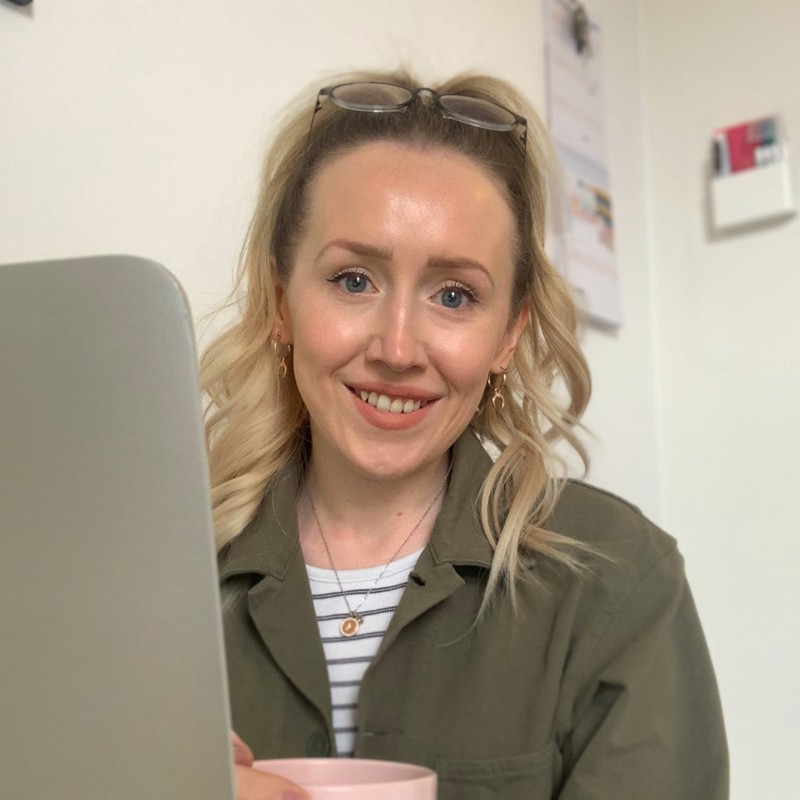 26 Apr 2021

Jessica Toomey
Our thoughts
When Instagram was first launched in 2010, it was the home of the filter and grew to become the motherland of highly edited, polished and curated social media profiles. This set the standard of how social media should be used and was a standard that stood its ground for the majority of the last decade. Cue the dawn of a new decade in 2020 and, with it, a dawning realisation that real, unfiltered content is now the zeitgeist, and it's time for filtered as f*ck content to step aside.
How did the shift from social media use being filtered AF to real AF happen, and in what ways can brands embrace the spirit of being as authentic as possible on their social media channels?
Here are five ways I see the shift happen and our thoughts on how you can evolve your brand's social media output to show up as your best, real AF self for your followers:
1. The ripple effect of the #FILTERDROP movement has seen a lot of us say 'f*ck it' to fake
Once, the likes on a social media post were influenced by the perceived level of perfection and how the subject displayed aspirational beauty. Now, we're well on the way to scrapping perfection as an accepted standard. Beauty influencers and beyond are leading the charge to fight the incredibly fake methods users use to warp themselves into a 'perfect' version of themselves. From filters to photo angles to editing apps, a whole tribe of influencers are making it their mission to challenge perfection and raise awareness of the reality behind it.
In 2020, Sasha Louise Pallari started the powerful #FILTERDROP campaign, encouraging influencers to drop skin-changing, face-altering Instagram filters and promote awareness of the damaging effects of using them by influencers advertising beauty to young women. In 2021, Sasha's campaign has led the Advertising Standards Authority (ASA) to advise against brands and influencers using filters when advertising beauty products. The use of filters can falsely exaggerate product benefits.
Brands have to recognise this movement and make responsible choices about representing actual reality in the content they share whilst being mindful about the influencers they choose to create content with.
Top tip: those saying f*ck it to fake should be top of the list.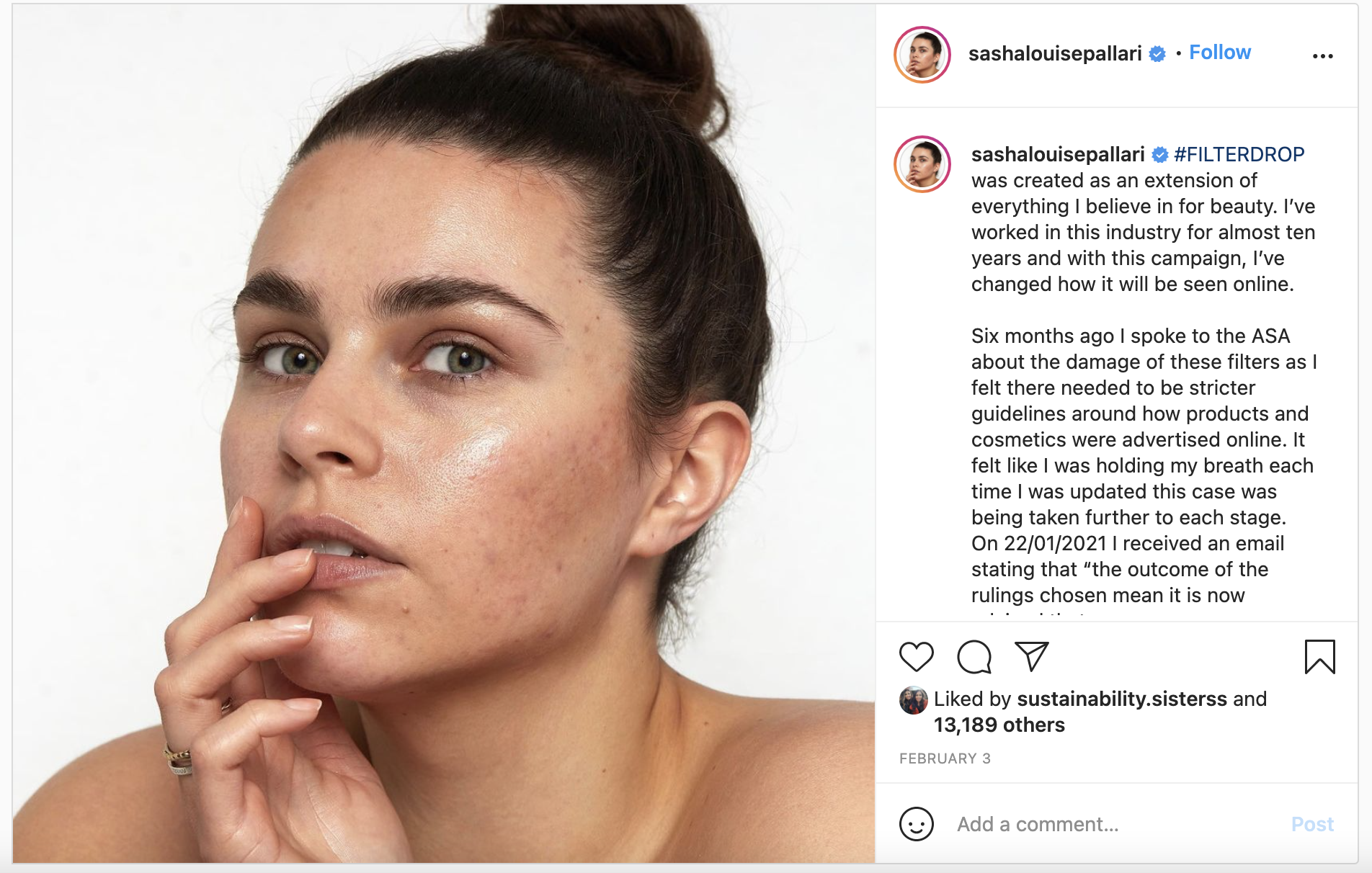 2. Celebrities who helped create the culture of sharing an aspirational, curated life have brought themselves back down to earth
We cannot overlook that celebrities and their social media habits influence how their followers choose to share online. Whilst sharing a picture-perfect life of glamour is still a habit of many, there's a shift in celebrities opening up the door to their very grounded daily lives. It's a shift their followers love – 'Instagram vs reality' posts are often celebrities' most engaging posts.
In TV personality Vicky Pattinson's words, taken from one of her regular 'Instagram vs reality' posts: "As I posed away in the mirror this morning before my workout as I often do, about to pop up a boomerang of myself in my nice new workout gear that does loads for my figure, in my skinny mirror that I love oh so much, with my body contorted into that perfect shape that I know does me all the favours… I thought to myself: What a tosser you are"
These honest take-ups from influential celebrities online pave the way for brands to contribute to the same positive culture of honesty. Next time you're primed to publish a perfect campaign photo, think about choosing to couple the content with a behind-the-scenes picture of reality.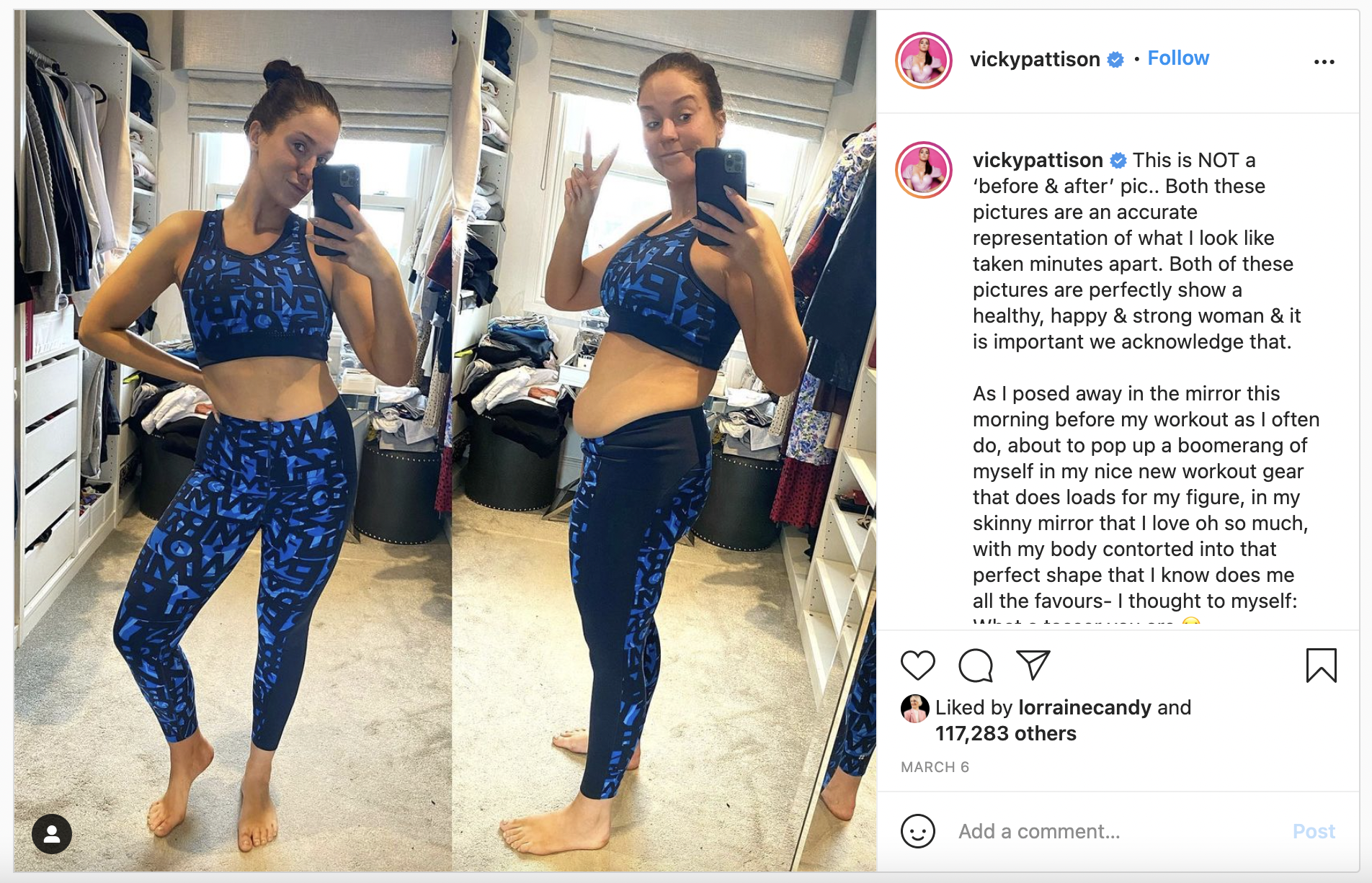 3. The Covid-19 pandemic forced us all into an equal reality, where our shared experience has been everything but superficial
Everything changed for all of us. Travel was banned, events were cancelled, entertainment venues closed, and 'staying home' was ordered. And with all of that went the highlights we would usually choose to share on social media. The one thing we could all share in and share online was the experience we were having within our own four walls at home.
It fast became the norm for brands like ASOS to have product images on their website which models had self-shot at home, and scrolling through Instagram showed you loungewear in living rooms and fire outfits ready for firing up the cocktails in the kitchen. No matter how you previously portrayed yourself or your brand online, there was no way you could filter out the impact of Covid-19 on your day-to-day life.
Brands cannot pretend the pandemic doesn't exist. It's the one thing we've all shared and a universally relatable experience. Get real, be honest and stay relevant by ensuring every piece of content you share reflects the reality of the biggest thing that's shifted behaviour and culture in our lifetime. It might be as simple as moving from promoting opulent outfits in far-flung locations (that none of us can travel to) to sharing straight-up supermarket swag (travelling to Tesco is the one social event that's stayed in our diaries).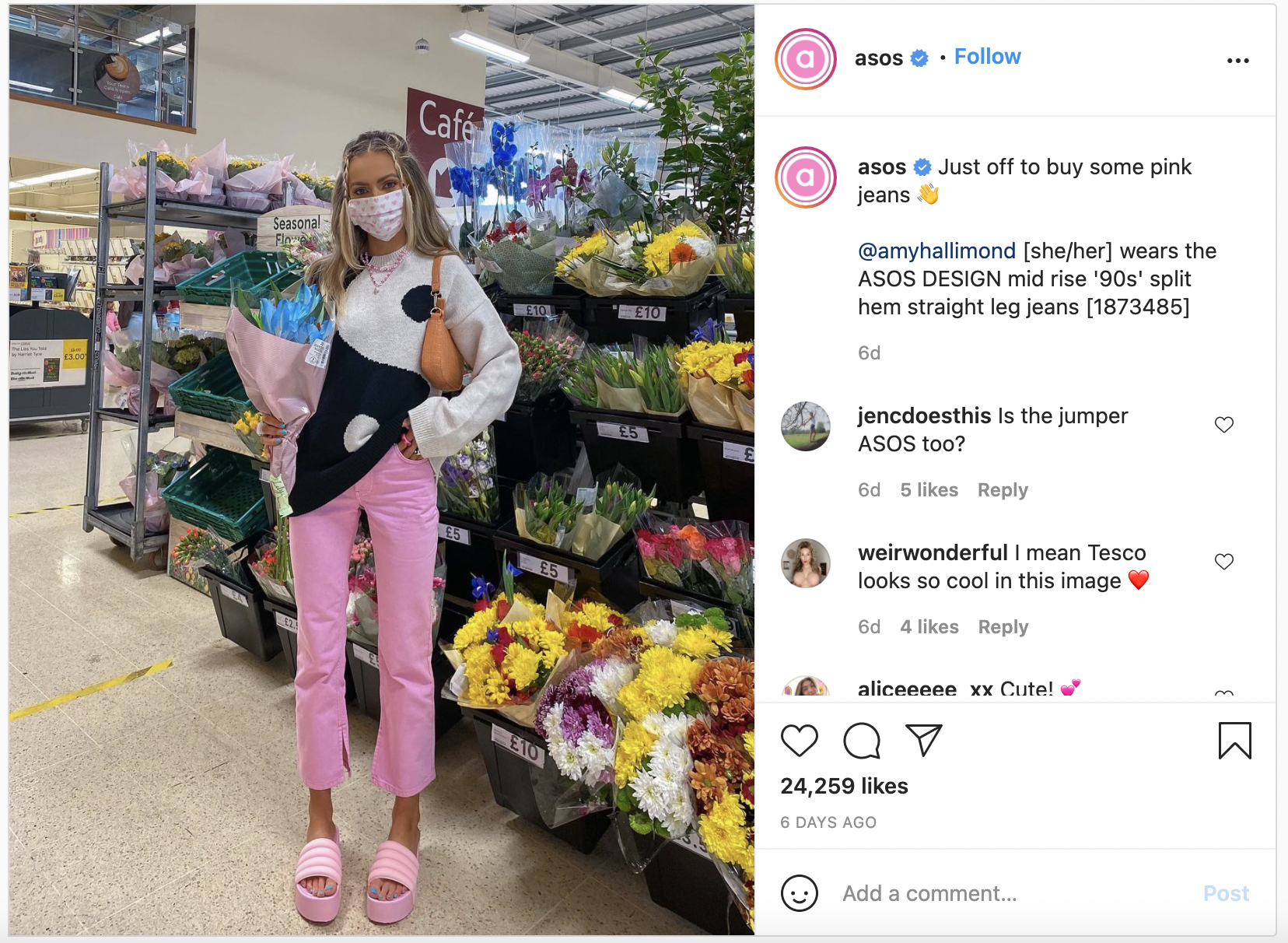 4. Social media users desire meaningful, human connection online more than ever before
Also heightened by the impact of the pandemic is our desire to connect online. Truly connect, at a time when the real-life connection has been made harder. We all remember the heady early days of the pandemic where we were embracing Zoom parties, virtual pub quizzes, and so on, with full gusto. We craved connection, and the only way to reclaim it was to share experiences online.
Nike encouraged everybody to stay active together in their Play For The World campaign; Bumble reminded us that we could still meet new people and encouraged users to Get Close, From Afar. Meanwhile, brands from Bobbi Brown to Bread Ahead Bakery flocked to roll out weekly Instagram Live schedules for their followers.
The beauty of creating moments of genuine virtual connection isn't going to disappear. Nor is the desire for consumers to see and hear from the people behind a brand. Why not bring the two together? Think of it as letting your community into your house and getting the most exciting people representing your brand to host the party!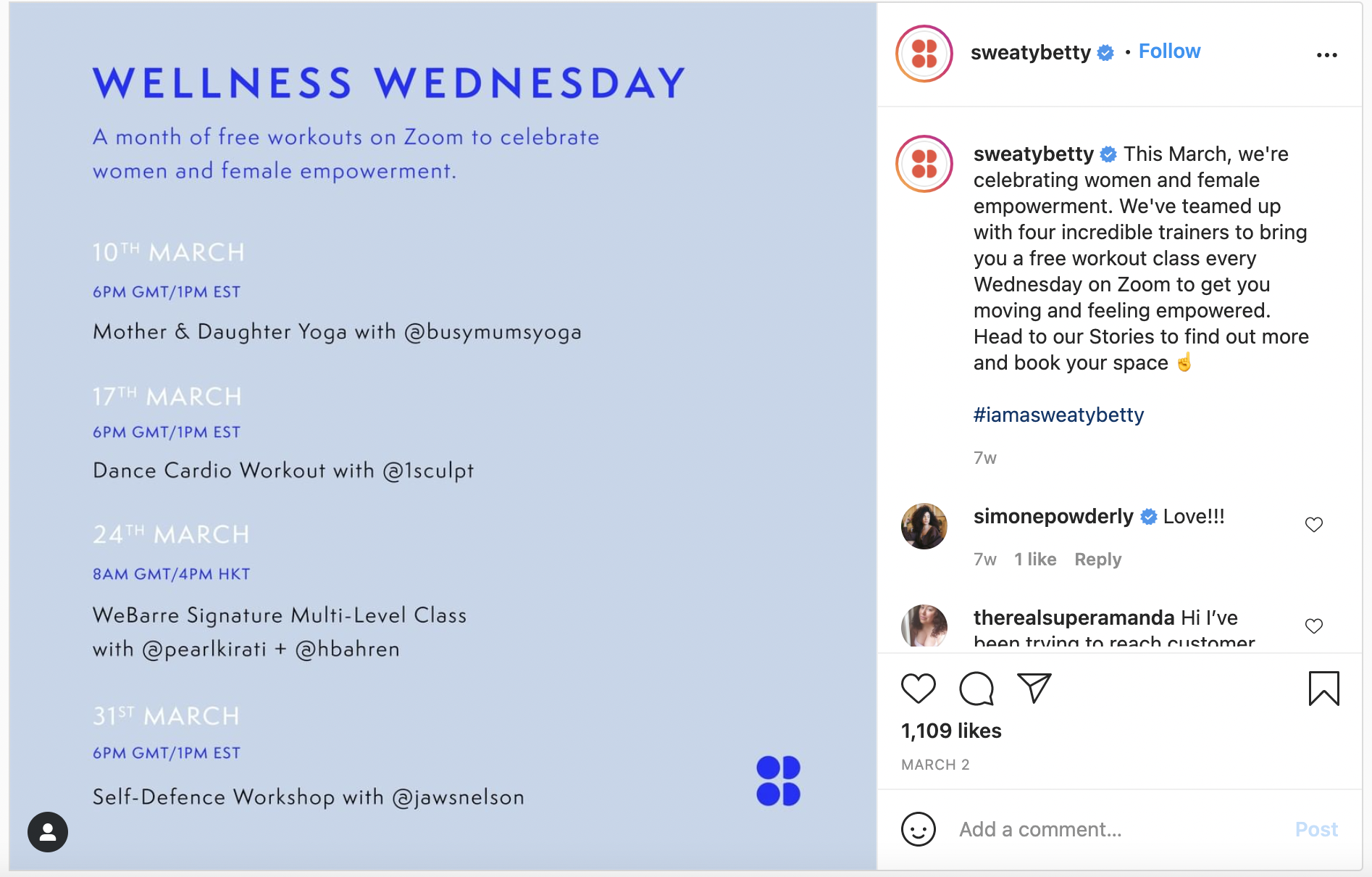 5. Off-the-cuff, rough-and-ready content is the current vogue
The ability to create social-savvy content quickly and efficiently is more accessible than ever before, thanks to the rise in platforms like TikTok and Instagram Reels providing uncomplicated in-app editing suites to do so.
Brands like Glossier can now achieve over 1 million views on a short, shot-in-selfie-mode tutorial video with in-app text dropped on top, a piece of content that could be produced, edited and published within the same hour. Previously, a day-long production shoot with an entire crew in attendance, followed by days in an editing suite, would lead to a long-form tutorial video that might have achieved not even 10% of the 1 million views their Instagram Reel gained.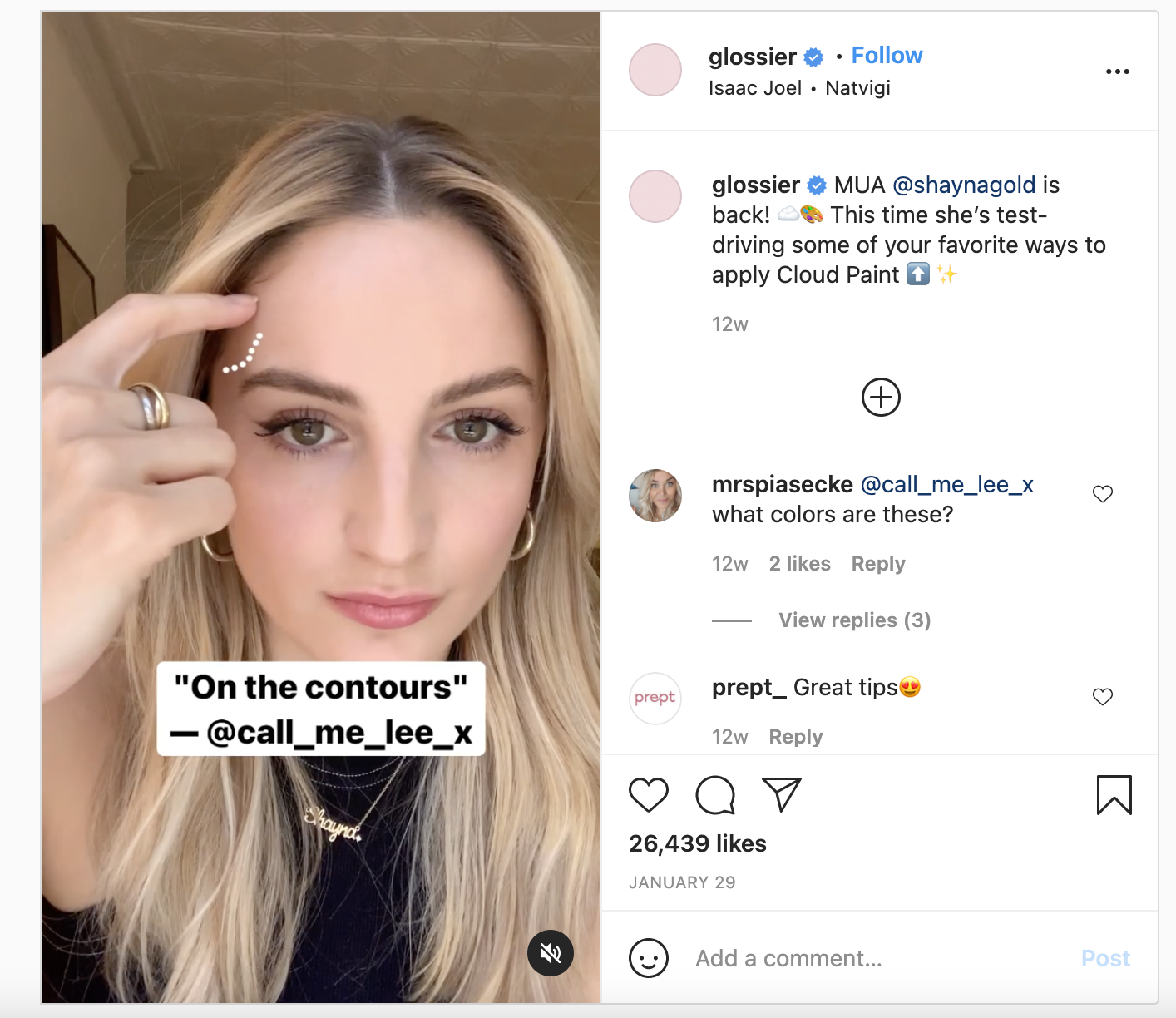 It's never been more time-efficient or cost-efficient to produce genuinely authentic social content that meets your followers' changing consumption behaviours and feeds the style of content that social media platform algorithms are prioritising. Put your brand message out there without over-investing or over-engineering it.
If you'd like to have a conversation about how we can evolve and revolutionise your social media strategy for your brand, feel free to drop us a line at info@1000heads.com 😉. We'd be happy to help you!