Spotify expands service to include podcasts, videos, and radio for runners
Last week, Spotify announced new ways it plans to deliver personalized audio and video experiences, through an expanded offering called Spotify Now. First are the video and podcast features, where users can now access video series and podcasts directly through their account, from top broadcasters and content creators. Spotify is also featuring a more personalized playlist function that is tuned to your listening habits, including the time of day you are listening as well as what you have listened to in the past. Finally, for avid runners, Spotify can now detect your running pace and create a station based on that data to help you keep momentum on your run.
Read more on Spotify Business Blog.
Facebook updates Events
Facebook is rolling out seven new Events features over the next year. Events will now be featured more prominently in a user's news feed. Additionally, after a person RSVPs to an event in their news feed, a "related events" feature will show up to let a user know other events they may be interested in. Users will be able to share an event using Facebook messenger and will be able to invite non-Facebook friends too. For small private parties where a head count is vital, you will soon be able to see which of the invitees have viewed your Facebook event, along with getting a receipt notification. Facebook continues to explore the idea of having a stand alone Facebook Events app, but it remains to be seen when or if this will happen.
Read more on Mashable.
Reddit cleans up trolls
Reddit has re-defined their harassment policy to help battle trolls on their site. Surveyed Reddit users said they are much less likely to recommend the site to friends because of harassment. Reddit has made their policy as clear as possible, stating that "Systematic and/or continued actions to torment or demean someone in a way that would make a reasonable person [1] conclude that Reddit is not a safe platform to express their ideas or participate in the conversation, or [2] fear for their safety or the safety of those around them." A user only has to email Reddit staff and Reddit will investigate and summarily ban a user if need be.
Read more on Social Times.
Pew research study shows more public mistrust online
The Pew Research Center's latest study highlights the public has very little trust that their personal information is protected. 69% of Americans believe that the government is not capable of keeping their personal data safe. Additionally, 50% of the people surveyed believed that online advertisers who place ads on websites you visit should not be able to save records or archive any of behavioral data for any length of time. Another 44% believed that online video services should not retain records of activity. Lastly, only 9% feel like they have control over what is being collected and 13% believe they have no control at all.
Read more on TechCrunch.
Pinterest debuts Cinematic Pins
Pinterest has launched video ads – which it's calling Cinematic Pins. The feature will show a moving pin when a user is scrolling through their feed. As soon as they stop scrolling the pin stops moving, then if the user clicks the pin, it will animate once again. Pinterest general manager of monetization Tim Kendall explains Pinterest's approach: "Our view is that auto-play is interruptive. Our new mobile ad format gives brands the ability to tell their story with motion. But critically important, it keeps users in control of the motion." Pinterest also plans to provide better audience targeting for promoted pins in an attempt to entice more advertisers onto the platform.
Read more on Mashable.
Facebook testing response rate metrics
Recently Facebook admins have been noticing a new metric on their side bar when they look at their main Page. In addition to providing Page Likes and post reach, there is now a response rate and response time metric. These stats provide a more granular view at the engagement around a Page's content, and could potentially be used by brands to determine the parameters around posting. It remains to be seen if this will be rolled out to a larger user base, as Facebook has a tendency to test changes for a small group of users.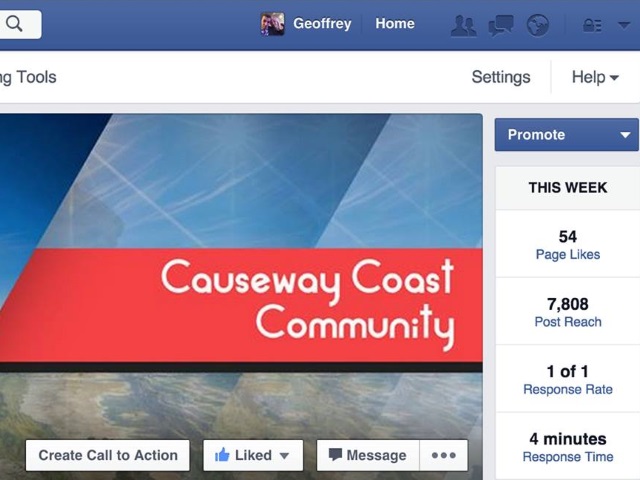 Read more on Social Times.
Socialbakers launches Instagram analytics and more
Earlier this week, Socialbakers made several key announcements about its service. One of the key parts of this announcement is newly announced analytics for Instagram. Socialbakers is also providing a deeper Facebook insights and ads integration. The new insights for Facebook include the evolution and distribution of interactions, filter effectiveness, follower growth, top content, promoted post detection, and social video analysis. Socialbakers have also updated the Executive Dashboard of their product with features including redesigned PDF reports, promoted posts strategy chart, charts on Socialbakers Builder labels, searchable user lists, searchable dropdown report lists, and a Socialbakers wish-list. Lastly, the update included the announcement of analytics for Sina Weibo. Analytics available on Sina Weibo include fan acquisition and behavior, content, engagement, customer care, ad effectiveness, and market trends.
Read more on Socialbakers Business Blog.
Facebook updates Messenger app
Facebook has just released a new feature for Messenger. Now, if a person you don't know or a Facebook friend you have never talked to on Facebook messages you, it will provide information in the chat window to let you better identify who you are talking to. Facebook has stated they will only use the information that a person allows to be seen, so the new feature will not violate any privacy settings. Additionally, this will not affect the 'Other' folder in the messenger inbox, just help place who the people are in that inbox.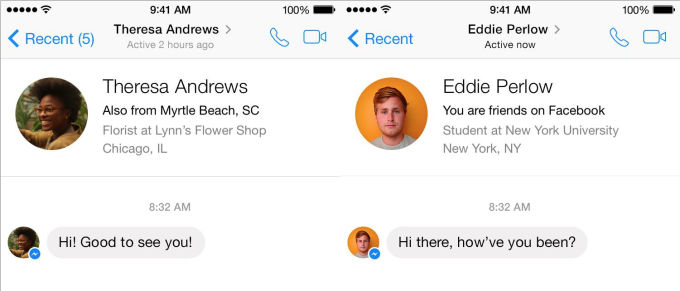 Read more on TechCrunch.
LinkedIn adds more robust analytics for post analysis
Originally LinkedIn was limited to brand and business Page analytics, but now they have added new features to aid users in seeing the analytics related to specific posts from users. Amongst these new data points are demographics on readers, industry breakdowns, job titles, locations and traffic sources. For each metric there will be a top four category that will show with a percentage. Right now there are only analytics for posts that have been made within the last 6 months.
Read more on Social Times.
Microsoft developing cloud-based OneClip
Microsoft is currently working on a cloud based clipboard called OneClip that allows users to copy anything, from any device onto a cloud and be able to access it on another cloud-connected device, similar to the functionality of how copy & paste works on a local device. Once launched the service will work with all Windows platforms, as well as devices running iOS and Android.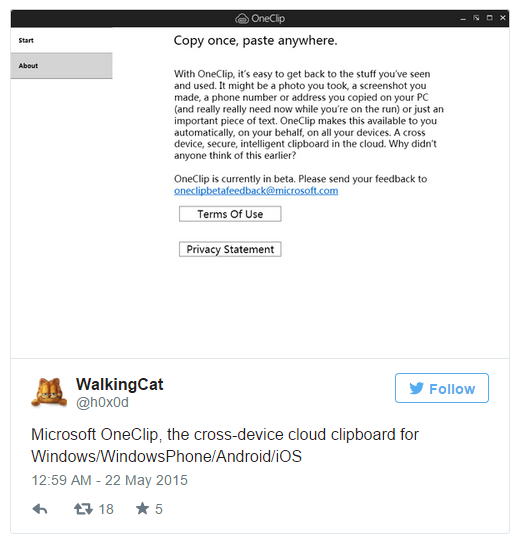 Read more on The Verge.