The term Twiplomacy has recently entered our vernacular to describe the growing use of Twitter by governments and ministers to conduct public diplomacy. Twitter presents politicians a way to make succinct, direct public statements without the complications of press and traditional media, so its no surprise the platform has become a powerful broadcasting tool for election campaigns.
According to the Digital Policy Council's 2014 report  4 out of 5 heads of state now use Twitter. Their total follower count has jumped up 40% last year, hitting a grand total of 116 million. The table below shows the top 10 most influential world leaders on Twitter.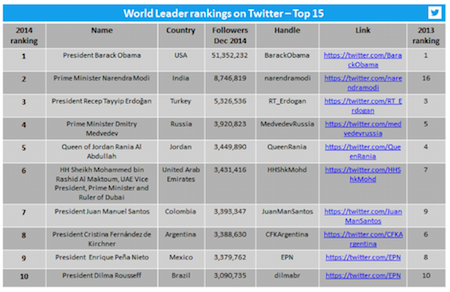 Although President Obama retains the #1 spot with 51 million followers, it's worth noting the prominence of the Middle East's top political figures in these rankings: five of the top 15 leaders are from the Muslim world. Rania of Jordan (at #5) is the most prominent, followed by Sheikh Mohammed bin Rashid Al Maktoum, the Vice President of the UAE and the Prime Minister and Ruler of Dubai.
Queen Rania (@QueenRania) grew her account by 500,000 followers last year. This seems to have been largely down to her use of the presence to advocate for women's rights, education and employment of the youth across the MEA region.
She also denounced the Islamic State and called for the Media to push back against the group, stating that "A minority of irreligious extremists is using social media to rewrite our narrative and hijack our anatomy" and using Twitter to reiterate her point of view. In the complex and ambiguous world of international politics, quotes and posts such as these succinctly express the feelings of a powerful figure in a way that is easy to digest, display support for and and share… it's no surprise her people are flocking behind her tweets.
The success of Queen Rania of Jordan is mirrored in the UAE. Not only has Sheikh Mohammed (@HHShkMohd) jumped up one spot since last year, the Vice President successfully used the platform to raise donations and provide clean drinking water to more than 5 million people.
In his own words, platforms like Twitter and Instagram "created new opportunities, removed all barriers and made the audience part of our development plans." Furthermore, by posting messages such as "We aim to have UAE become world's capital for humanitarian relief work.. That's Zayed's will, Khalifa's way, and UAE's message to the world" the leader promotes national pride and a positivity that is often missing from the mainstream press.
Another MEA leader to watch out for on social is Iran's President Hassan Rouhani (@HassanRouhani) whose number of followers has impressively multiplied by 19 in 2014.  The President's performance on Twitter can also be highlighted by his timid diplomatic relations with Barack Obama on Twitter.
According to The Arab World online's most recent study, the total number of active Twitter users in the Arab world reached 5,797,500 users as of March 2014.  Middle Eastern leaders are evidently well aware of the popularity of Twitter within their communities and its potential to influence voters.
Of course, tweets by these leaders are highly targeted propaganda, and few of them are going to engage in conversation or debate in this space, which would rapidly become unscalable and awash with trolls. But 140 characters offers them a clarity of message and sense of the personal often missing from manifestos. Their existing supporters will undoubtedly draw closer – but how influential these diplomatic marketing techniques will prove to be on fence-sitters is yet to be seen.