Take a dive into our work
The challenge
Position UNIQLO as the destination for 'Winter Warmth' via a premium, interactive and innovative activation. Drive awareness and trial for HEATTECH, UNIQLO's thermal clothing range.
Insight
Our research showed that adverse weather conditions trigger online discussions, with Sydney accounting for almost 30% of all Aussie cold weather social mentions.
HEATTECH uses technology that allows your skin to stay warm when it's cold, so we had to hijack these winter weather conversations and inject HEATTECH into the discussion.
Imagination
The question was posed: How does it feel to #STAYWARM with HEATTECH? To answer, we built a ground-breaking Out Of Home activation to delight a chilly public, by inviting them to enjoy some HEATTECH warmth!
Implementation
A 5m tall HEATTECH shirt was displayed in Sydney's Martin Place – a massive structure designed to capture attention and start conversation. It featured a large walk-through tunnel housing powerful heaters and glowing red LED lights.
Once inside people pushed a button to activate a FLIR (Forward-Looking Infrared) camera, which highlighted their body's hot and cold spots on a suspended screen and demonstrated how important heat retention is on a cold day.
1000heads harnessed this FLIR technology, allowing fans to take their very own thermal selfie. On each selfie print-out was a redeemable code for a free HEATTECH gift at a nearby UNIQLO store.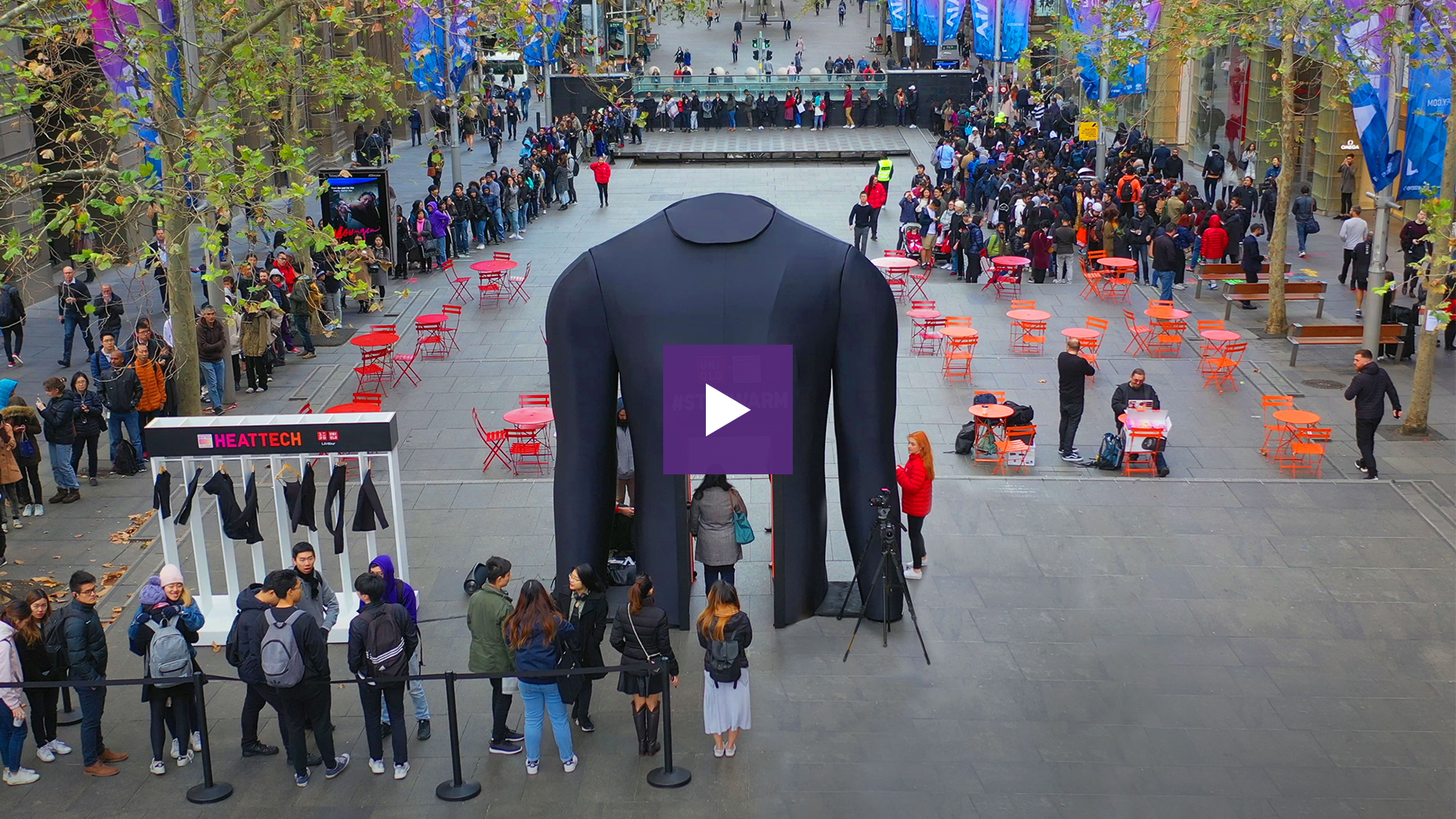 Impact
News of the activation quickly spread. By 7am a queue of over 700 people had formed, with the line at 300-500 all day. In total 1,785 people walked through the activation, with 1,655 voucher redemptions – a staggering 93% redemption rate. Local and national media coverage stirred the conversation, fans shared their thermal selfies online and UNIQLO's social media reach rose tenfold.
Total impressions across all media was approximately 6 million, garnering over 50,000 overwhelmingly positive social engagements for the brand and the activation. On the day, UNIQLO in-store footfall increased, with HEATTECH winter sales rising 20% year on year.
The campaign received multiple awards, including a Shorty Award for Best in Fashion and a Mumbrella CommsCon Award for Best Use of Technology.
6M
campaign impressions
50K
campaign engagements
93%
voucher redemption rate