THE CHALLENGE
Diageo's Culture & Entertainment team is tasked with delivering against five brand metrics across the company's portfolio of brands: Salience, Meaningfulness, Talkability, Sociability and ROI.
The team needed a Social and Earned Media measurement system that joined together the work brands were executing in the paid/earned/shared/owned media space and laddered up to the established brand measures.
Previous Data & Analytics solutions lacked credible metrics and methodologies were deployed inconsistently across brands and markets. Previous programmes failed to integrate with existing analysis tools in the business and ultimately failed to capture the trust of the this highly data-driven company.
Idea
We created the Intelligence for Culture & Entertainment (ICE) Measurement & Evaluation Program to bring credibility and consistency to data; to serve a complex portfolio of brands, countries and teams; and to integrate with existing business analysis systems at the company.

IMPLEMENTATION
1000heads developed customized metrics and methodologies, designed to ladder up to Diageo's brand growth drivers, and to gauge the effectiveness of campaigns against their specific communications goals.
We evaluated a set of Social Analytics, Influencer Tracking and Media Analysis platforms based on custom criteria, unique to the strict regulatory environment brands in the alcohol category operate within – such as age-restrictions on social media audience targeting.
We developed a custom data cloud to manage data flow from input to integration with Diageo systems, to conduct analysis and to reveal previously unavailable insight into respective brands' social comms effectiveness.
Reports customized to each brand were then presented to marketing teams on a half yearly basis to share insight, learnings and to guide strategic decision making.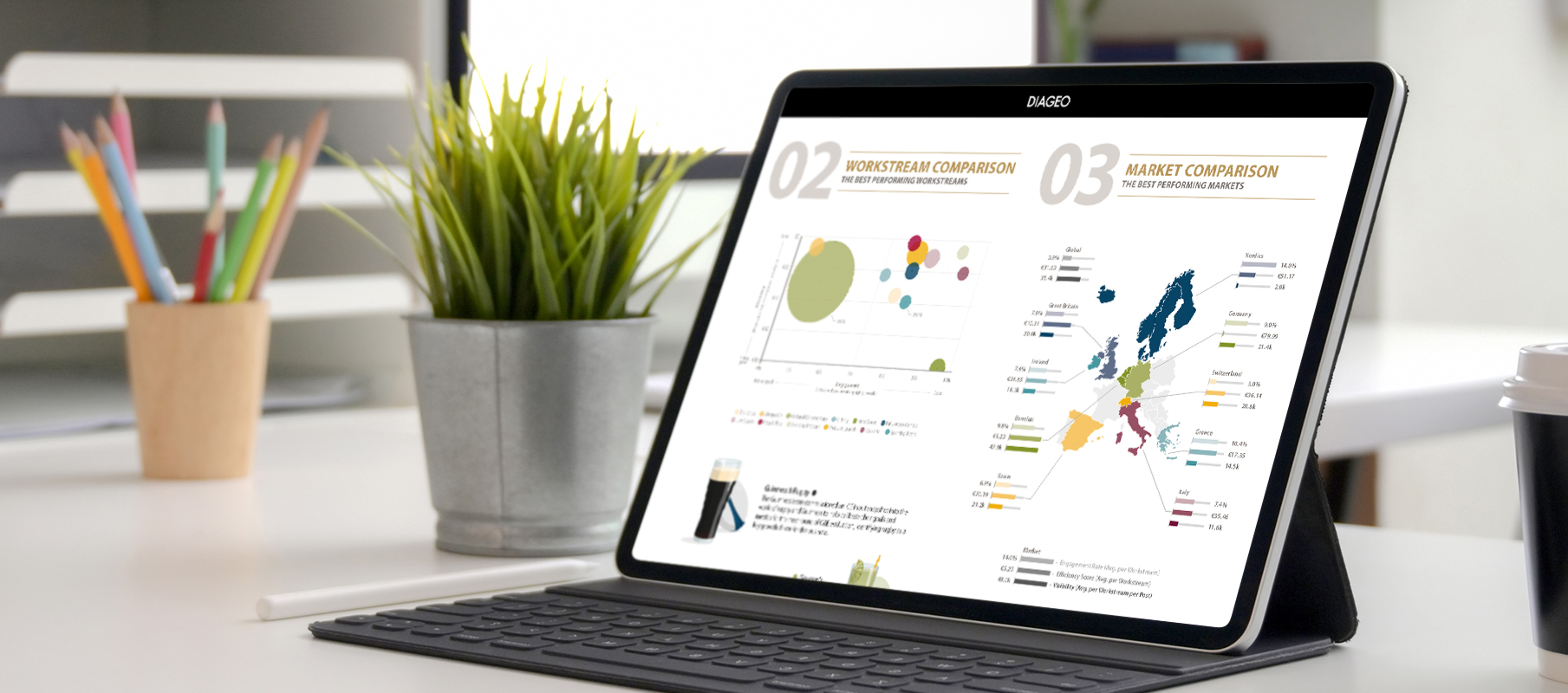 IMPACT
Twenty-seven brands, across twelve markets have been evaluated using the ICE Framework since 2017 – surfacing data and insight that guides the strategic planning decisions for brand leads across the portfolio.
The tens of millions of pounds invested annually in culturally-connected marketing is now fully integrated in the company's econometric modelling systems – giving the marketing teams ROI data on every line of budget.
The Diageo ICE framework has been recognized by the leading global Measurement organization AMEC as a best-in-class example, winning three awards:
GOLD – Best Use of a Measurement Framework.
GOLD – 'Step Change Award' for the best improvement of a measurement journey.
PLATINUM – Grand Prix for the most effective PR consultancy, communication agency and in-house communications team campaign.
27
Brands evaluated
£39.2m
COMMS SPEND MEASURED FOR ROI
454
CAMPAIGN INSIGHT REPORTS