Take a dive into our work
The challenge
Skype wanted to engage with a socially-savvy audience and showcase the possibilities and advantages of their premium group video calling service over 121 video calling and IM.
We needed to develop a way to socialize the experience of Skype group video calling, allowing people to promote the possibilities and benefits to friends without having to subscribe beforehand.
Insight
More than 2.7 million people celebrate their birthday on Facebook every day. Their news feeds become cluttered with a stream of generic and repetitive 'happy birthday' messages. These celebrations could be made more social, more special and more impactful with Skype video.
Imagination
The Say it with Skype app enabled people to send more inspiring greetings to friends online with the help of a supporting group of artists and musicians.
The app integrated pre-recorded video elements of live musicians, the user's own web cam feed and a personalized typed message, all brought together in a Skype group video call interactive experience. This unique video message could then be posted and shared via a friend's Facebook timeline.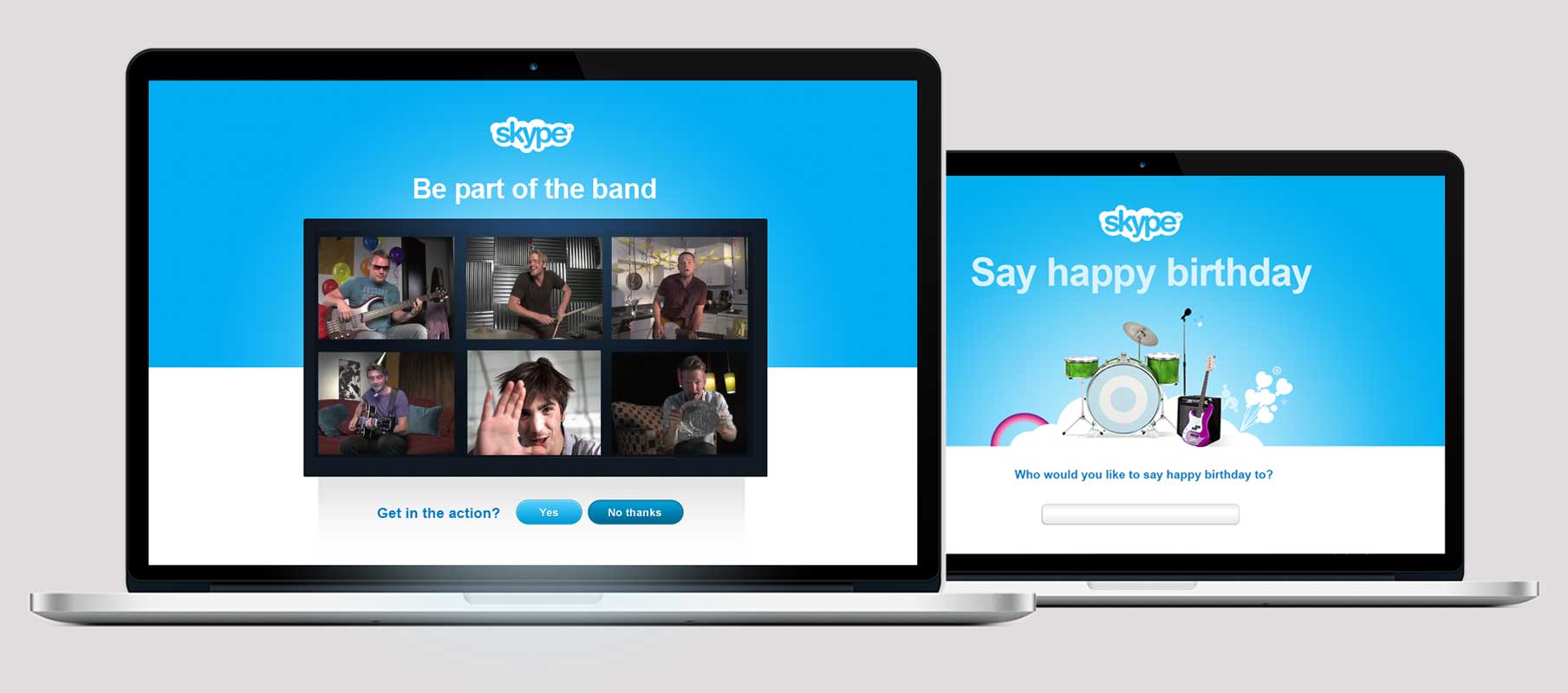 Implementation
Say it with Skype launched via Skype's homepage and promoted across Skype's wider digital footprint including email and SMS. Widespread global PR coverage across tech and music press helped to further amplify the conversations already happening on newsfeeds.
For grassroots social amplification, we worked with the featured bands in the studio to pre-record personalized Group Video birthday messages to a selection of influential fans – which were sent out on their actual birthdays. Then, to engage up-and-coming musicians to get involved, we built a band audition feature into the app that allowed unsigned bands to submit their best recreations of the classic 'Happy Birthday' (in whatever style they choose) for a chance to appear in the app and be seen by millions. Our winners, an unsigned Indie band called The Reel, were filmed and incorporated into the app – garnering world exposure and hitting the feeds of Facebookers the world over.
Impact
110,000 video greetings were created and shared during the campaign which generated 230 million social impressions worldwide. More than 1.7 million visitors came to the campaign hub – spending 400% more time with the brand than on any other of Skype's digital platforms. Those who did were also twice as likely to go on and sign up to Skype Premium. The campaign also helped double share of voice for Skype Group Video in social media.
110K
user generated videos shared
1.7M
visits
$6.9M
equivalent media value