Improvise. Adapt. Overcome: Using Memes in Marketing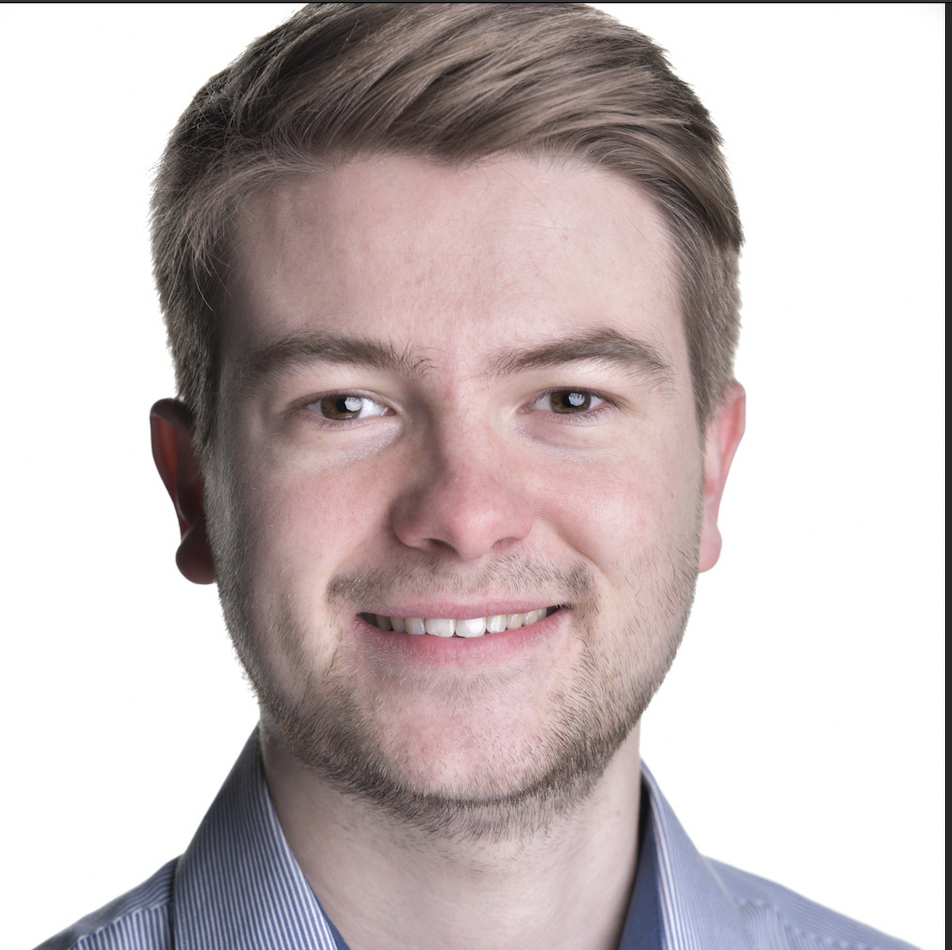 Point of view, Social business, Trends
From the humble 'Bad Luck Brian' to a more recent viral hit of The Weeknd at this year's Superbowl. Arguably, 2020 and 2021 has been a time when we needed memes most, to keep us sane and to give us some laughter and positivity in the times of darkness. However, memes are more than just a casual piece of content that make us chuckle and can in fact be a vital part of a brand's social strategy.
The Importance Using Memes in Marketing
Memes are being utilised by brands at the core of their social media strategy due to their ability to "go viral" and increase brand exposure (although not every brand does this successfully, shown by the negative responses of this McDonald's post).
There are plenty of benefits for using memes, a primary example being that they allow brands to connect with audiences due to their ability to tap into a core, universal truth that is relevant to either the world at large (such as politics) or a niche community (gaming, for example). This strategy is often better than traditional methods of only using typical branded content.
Marketing with humour and relevance can engage hard-to-reach consumers, whilst promoting a brand's message without being too direct and forthright about it. Rather, the goal here isn't to sell, it's to promote indirectly through driving connection and affinity with the target audience.
Stop Start the Spread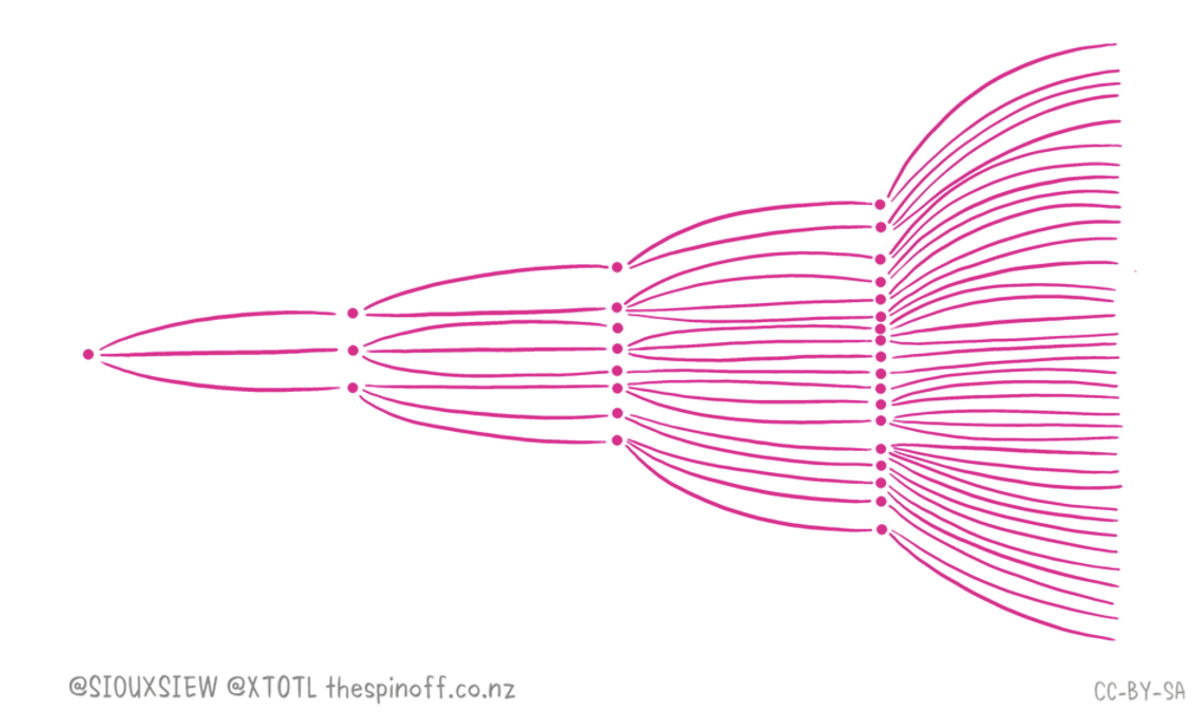 "Going Viral," which is a scenario that brands and businesses all aspire to, is a term readily used to describe organic growth. In reality, it's just another way of explaining the popularity that spreads. Virality greatly increases brand exposure and can drive a huge swarm of traffic to a website or product.
The way in which memes spread is perhaps more relevant than ever. Memes accelerate through a population, before slowing as they run out of new hosts, following the same "super-exponential" pattern as diseases, hence the term 'viral' (something in which we are all becoming somewhat expert).
The diagram above is one that illustrates the transmission of Coronavirus, but it can just as easily be one about memes. The piece of viral content starts at the host (the brand posting), is shared through retweets, word of mouth and so on, spreading through the community for more and more people to see the post and the brand.
Expanding further on the disease metaphor, memes follow a similar mutation pattern to viruses. Memes that are released into the world have a tendency to mutate and bend according to interests and passions and the brand's role is not to initiate memes but to use already popular formats to express something about their brand or talk to their communities at their own level, in their own language. This is exemplified by this UK Celebrations Twitter post.
Again, akin to virus spreading, the mutation of a meme increases its virality as it is spreading further through different communities and being transmitted to more people.
How Do You Meme
Understand Your Audience
It can be very successful and productive for a brand to use a range of relevant memes that relate to the product or business. Through doing so, a brand's audience can grow and a community can be built. Instead of overwhelming the audience with a product-centric message, there is a way to evoke humour and humanity through product placement in marketing memes.
BarkBox, for example, understands their audience very well and produce a range of dog-related memes that their followers are sure to love. Their content is unique and creative, whilst their audience find it funny and therefore purchase the service.
Language and Formats
When publishing marketing memes, it's important that the meme's tone of voice is relevant to the brand's tone of voice. The key is to be authentic and not overly conservative, with edgy content demonstrating that the brand has a personality and unique voice, setting them apart from bland commercial competitors.
KFC does this very well with their methods of launching new products using popular memes, making their promotions refreshing and less robotic or overly promotional.
Timing and Trends
Many of the best memes draw on contemporary situations, such as events, certain TV shows and celebrity news. Reacting to a recent moment or cultural phenomenon is likely to increase engagement rates among customers.
Memes quickly phase in and out of relevance, so timing is a key ingredient to getting it right. Since memes are often related to a current trend or event, they make a brand more real, modern, and human.
When the story about Coleen Rooney and Rebekah Vardy happened, Netflix published a simple tweet that got over 3000 retweets and more than 32,000 likes, showing that timing and relevance can be a clever way to get the engagement every brand craves when using memes in marketing.
It's undeniable to see that memes really can be the way forward for brands and with their continued popularity and diversification, there's no sign of them letting up. Like memes, it's therefore advisable to adapt and change with the times, consistently innovating so that your brand doesn't become a meme in itself and a target for mockery.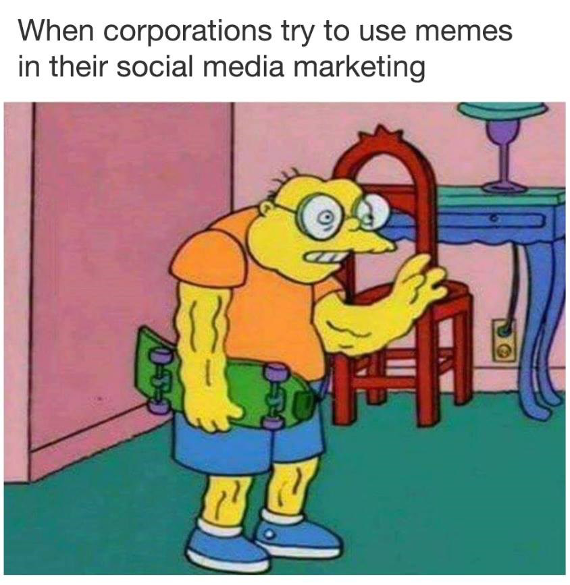 Ready to ramp up your social media marketing strategy? We offer a social media playbook that includes a competitive audit, social strategy (including where memes fit in) and measurement framework. Email info@1000heads.com to learn more!