Monday, January 26th, 2015
Twitter grows by nearly 30% in the past year
For calendar year of 2014, Twitter experiences 29.8% growth in Canada, one its top growing markets, and the trend is set to continue with predicted double-digit growth in 2015. In 2014, the network had 5.9 million users, compared with 4.5 million in 2013. According to a report from E-Marketer, growth is expected to reach 6.8 million users by the end of the year. My percentage of users, Twitter is more popular in Canada than it is in the US presently.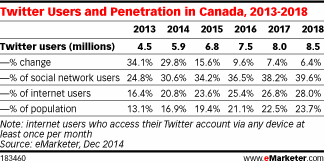 Read more on AdWeek.
Facebook allows users to report fake news
In the next chapter of Facebook's mission to keep the News Feed relevant, Facebook has added the ability to flag a news story as a hoax. By reporting a post as a false news story, it will appear less frequently in the News Feed and will eventually come with a warning to other readers. Fans of The Onion need not worry, with Facebook tests revealing that users are not prone to flagging satirical content as misleading.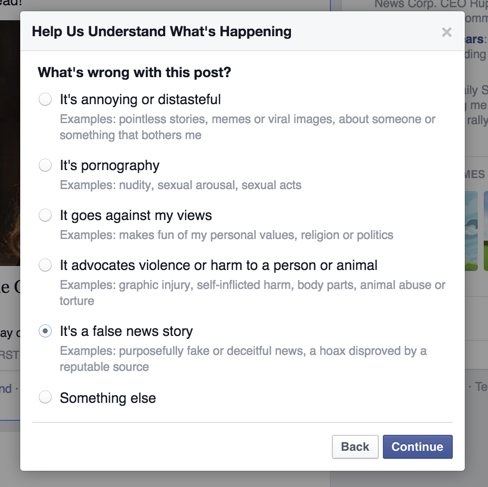 Read more on The Next Web.
Tumblr launches network for content creators
Announced earlier this week by head creative strategist David Hayes, announced a new network for content creators call "Creatrs", where top users will create content for Tumblr initiative such as good causes and advertising. There will be a team at Tumblr assigned to the initiative, to help users license their work, make money, and get credit for their creations across the internet. According to Hayes, $250k have been paid to Tumblr content creators over the past year as Creatr was being tested. It remains to be seen if the model will follow other social content creation networks like YouTube, who have revenue share arrangements with top users.
More information on Business Insider.
Twitter releases Digits log-in system for the web
Digits, the log-in system created by Twitter for mobile app developers, has launched the service for web applications. Because Twitter wants Digits to be implemented into applications that feature a mobile-first experience, users would still have to sign up via a native application first, but then they could use their same phone number to log-in via the web, if the app creator has enabled a site for it. The goal for Twitter was to let developers provide a consistent experience across all platforms.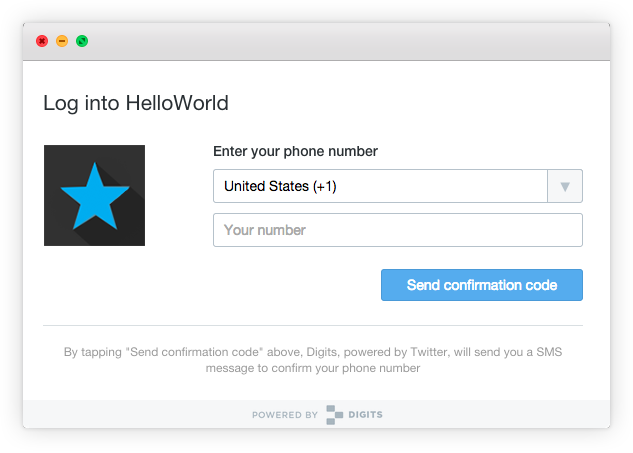 Read more on Twitter Blog.
Spotify adds new tweaks to music discovery on iOS
In an effort to help users discover new music, and find their favorite songs more easily, Spotify has introduced a new feature on iOS where users can tap to preview a song or an album instead of clicking through to the entire body of work. The previews last for up to 30 seconds while a user holds down a finger on a song or album. Additionally, within a playlist users can move their finger up or down to sample songs from that playlist. To set up a queue for songs to play, users can now swipe right on a particular song and it will be added into the play order. These updates are planned to roll out later on for other platforms.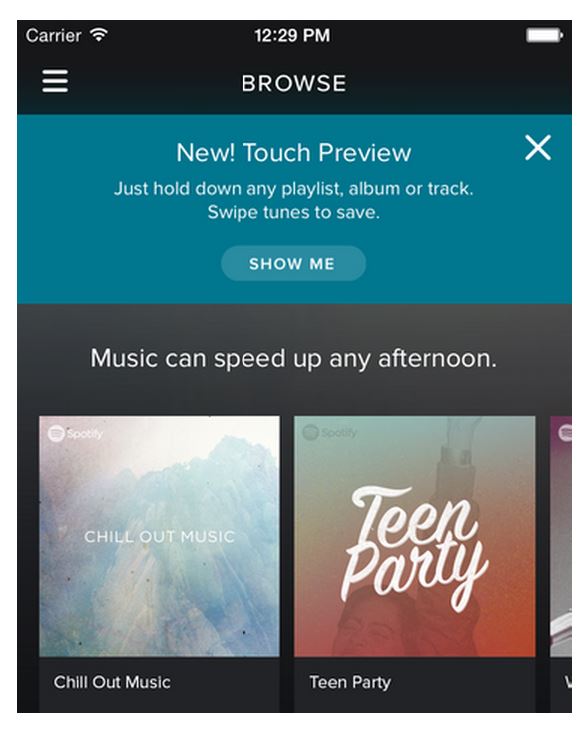 Read more on CNet.
Twitter launches translator in partnership with Bing
Twitter announced earlier this week that it is adding translation services powered by Bing to its site and mobile applications. The service has been officially added, after being in testing for several years, and is available specifically on the web, iOS, Android, and TweetDeck. Users have to activate the service on their account, and they will then see a globe icon next to tweets in languages other than the native one set in the user's account. Once clicked, a translated version of the tweet will be shown. The feature was added to Twitter's mobile apps earlier last year, but was removed after stability issues. 77% of all Twitter users reside outside of the US.
More information on TechCrunch.
Twitter encourages active users to post photos directly on the network instead of Instagram
As a way of helping to promote its native photo sharing, Twitter has started providing visual prompts to users to user its native photo sharing, as opposed to other methods that will not show the full photo in-stream, such as Instagram. The prompts have only been sent to power users across different categories such as sports and entertainment, potentially as a method of getting influencers to pseudo-back the native feature. Instagram disabled support for showing its photos directly in tweets two years ago, and at the same time Twitter introduced enhanced native sharing features and filters.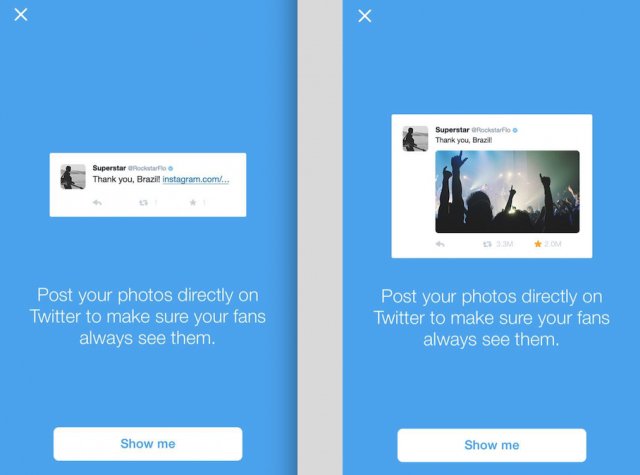 Read more on Mashable.
Online video stars ask the President questions with #YouTubeAsksObamna
This past Thursday, President Obama, one of the most engaged on the Internet, interviewed with three top YouTube stars; Hank Green, GloZell Green and Bethany Mota. Questions from the interviewers ranged from complex international political issues, to more fun and lighthearted questions. Each interview focused on a different subject, ranging from North Korea and Cuba, to what the government can do to help younger citizens. So far, the video of the interviews has racked up over 2.6 million views.
More information on AdWeek.
WhatsApp launching for desktop platform
The increasingly popular messaging service WhatsApp introduced a web-based version this past Wednesday, letting users send messages from the web in addition to the already existing mobile applications. The service was purchased by Facebook for $19 billion last year, and currently has over 700 million users. Conversations can now be carried from the phone to the web, but it is not currently available on iOS, due to "Apple platform limitations", according to a blog post from WhatsApp.
Read more on WhatsApp Blog.
Facebook Groups users asked to complete survey
This past November, Facebook released a standalone app Facebook Groups, and users who downloaded the app were asked to complete a survey, presumably to understand user behavior and preference for the app. Questions included; 'On your phone, where do you keep the Facebook Groups app?', and 'What is the primary thing that would make the Facebook Groups app more valuable to you?'. It remains to be seen how the questions will be used, but Facebook has a reputation for launching apps that flounder, so this is potentially a proactive attempt to create a better experience for new users.
More information on Social Times.
Pinterest makes acquisition to boost ad targeting
Kosei, a recommendation engine, has been acquired by Pinterest in an effort to boost its ad targeting capabilities. This latest acquisition aims to bridge the gap between the channel's Promoted Pins and Guided Search, making a statement around the strength of the channel's targeting. Pinterest's head of engineering is confident Kosei's highly personalized recommendations and catalogue of more than 400 million relationships between products will perfectly marry their existing offering and paid opportunities.
Read more on Venture Beat.
Facebook messenger testing voice-to-text messages
Facebook's VP of Messaging announced tests for a new feature that would allow Messenger app users to convert voice messages into text. The development aims to extend on the current ability to send voice clips by enabling users to read the contents instead of having to play them out loud. While only available on a small scale, if the feature proves popular it would be made readily available.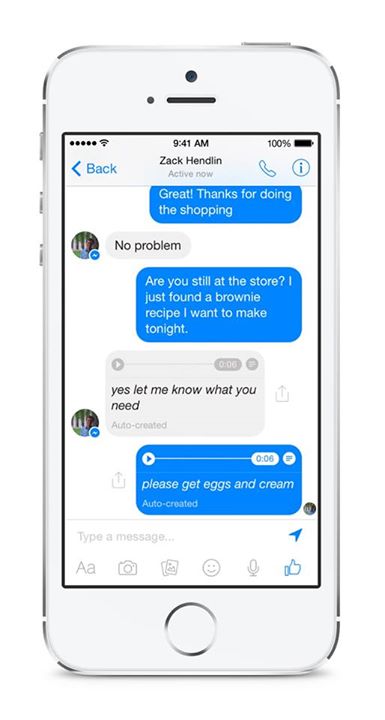 Read more on The Next Web.