Monday, April 27th, 2015
Facebook news feed changes prioritize content from friends
Earlier this week, Facebook announced a change to its news feed algorithm which means that brand and business Pages will have their content appear less in individual news feeds. Previously, organic Page reach was reduced to around 1-2%, so this shift presents a further challenge to businesses. Based on user feedback and engagement statistics, Facebook has decided that users wish to see more content straight from friends, rather than from pages, a driving force in these changes. The three core changes for the update include promoting friends' content, showing less "irrelevant" content, and creating greater variety in content shown.
More information on Business News Daily.
Brands post more on Facebook to deal with poor Page reach
Based on research completed by the Adobe Digital Index, brands are posting more and more in the beginning of 2015, largely due to a decrease in the reach of their pages. Posts from brands increased approximately 31% in the first three months of 2015, compared with the same period one year ago, and in the same time frame comparison, impressions were down 35%. Paid impressions rose 8%, potentially due to the fact that brands are putting more investment behind Facebook ads, as the network becomes more of a "pay to play" scenario for businesses.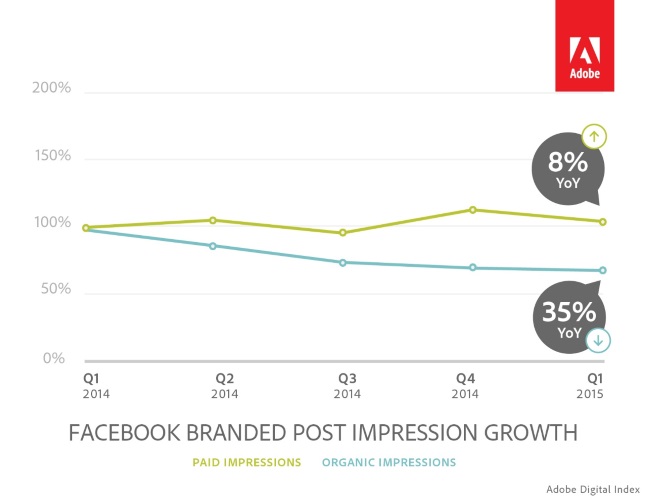 Read more on Social Times.
Facebook organic Page reach was 2.6% in March
From an analysis of 5,000 brand Pages completed by Locowise, a social research and analytics company, Brand page reach on Facebook has been measured at 2.6% of total audiences, and a lower 2.26% for Pages that have more than 1 million likes. The research shows that the small the overall audience is, the larger percentage of reach the Page has, but this would also mean a lower total, or nominal reach. Out of the average of 2.6% of users reached, a subset of 11.38% of those users engaged with the content shown to them. The type of content that performed best in terms of generating likes were Links, followed by status updates, photos, then videos. Out of all the Pages analyzed in the study, only 7.38% used Facebook ads to boost their content.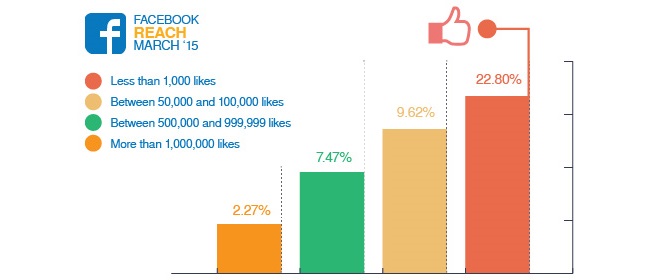 Read more on Locowise.
Facebook remains dominant social network for SMBs
Based on a survey 1,000 Facebook users completed by Gannett, 73% of felt that the network was the most important in terms of finding local businesses, ahead of Twitter with 3% and LinkedIn with 2%. Other interesting statistics from the same study cite that 51% of respondents used discounts to push them to visit a particular brand's website, and 54% said discounted offers would cause them to book an appointment (with a service-based business). One point related to customer service on social media from the study points out that 58% of users expect a response within 1 business day, whereas with Twitter, only 42% of users have this expectation.
More information on Social Times.
Facebook introduces dialer application Hello for Android
Facebook has stepped into the Dialer arena, releasing a new app for Android devices earlier this week, with the aim of replacing the core dialing and calling function provided by mobile devices. The new application, centered around Facebook technology, lets users make free calls over Wi-Fi, and uses Facebook to identify callers. The app also employs a powerful search function to help make it easier for users to find numbers to local businesses. The free Wi-Fi calls using VoIP have previously been a featured available on the stand-alone Facebook Messenger app, but will likely see more use in a separate application dedicated to calling. The release of the new app is the next step in Facebook's strategy of creating an application eco-system on mobile devices.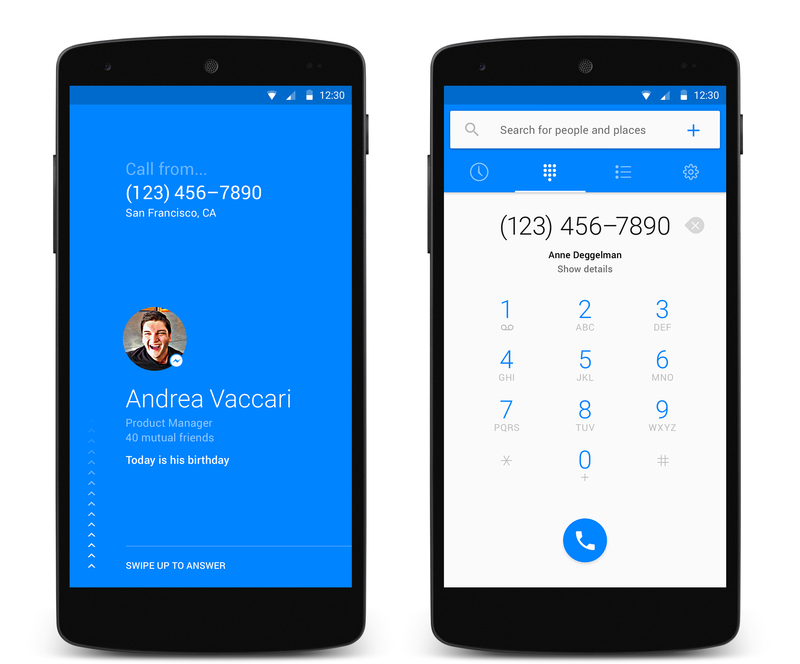 Read more on The Verge.
Whats App adds voice calling to iOS app
After recently announcing a new milestone of reaching 800 million monthly active users, Whats App announced that it would be rolling out free voice calling to all iOS users over the next few weeks. The feature allows users to call any contact, but locally and abroad, over data connection with no extra cost. The voice calling feature initially rolled out to users in February on Android as an invitation only, but rolled out for all Android users at the end of March.
More information on PC Mag.
Facebook testing new notifications tab
Multiple news outlets have recently noticed that Facebook is testing a new notifications tab, potentially meant to function as a miniature news feed, pulling information from across the entire site. The tab will be rolled out to US users first, with the rest of the world rolling out afterwards, but timing has not yet been confirmed. The feed will be comprised of eight different sections, birthdays, life events, events, nearby places, trending topics, news shared locally, today in the past, and nearby friends. It is possible for users to customize this feed, but it remains to be seen if that feature will remain once it rolls out worldwide.
More information on Mashable.
Instagram has the most engagements per post of major social networks
In study completed by social media analytics company Quintly, it was found that average engagement on Instagram is 10 times higher than on Facebook. The average Facebook user posts 1.5 times per day, and while the amount of posts per user on Instagram is less, at about 1, the interaction rate on the latter is 4.8, while on the former it is only 0.72. Interaction per post on Twitter is even less, at an average of 0.25. In addition, in the first quarter of 2015, the interaction rate actually increase by 1%, showing a trend of increased engagement on the network as a whole.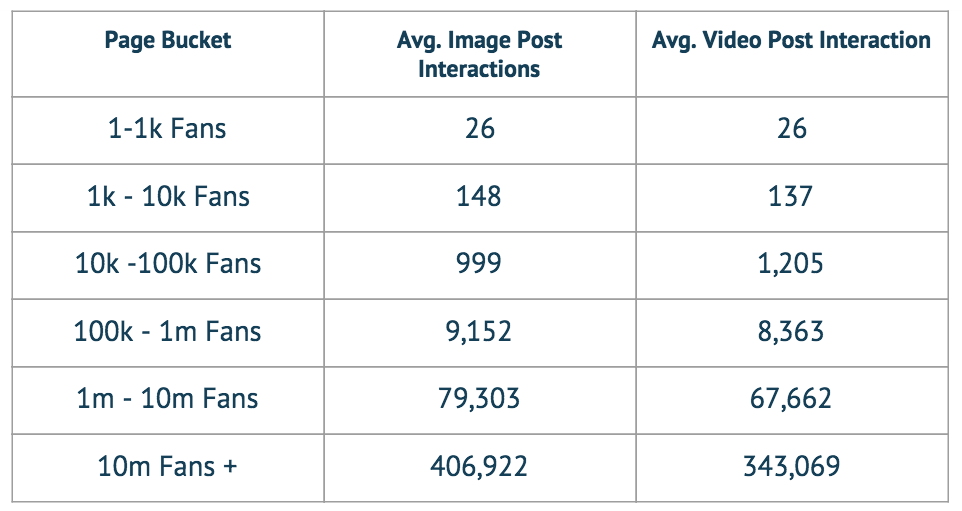 Read more on Quintly.
Twitter rolls out new Highlights feature
A new feature for Android users on Twitter, Highlights rolled out earlier this week. The feature acts similar to the "While you were away" function on the app, except that the new feature sends users notifications on their devices to tell them about specific content they may be interested in on Twitter. The feature is available for English-speaking users for now, and users have to turn it on. When a user clicks one of the notifications, they will be taken into the Twitter app itself, and cards will be shown based on tweets from users followed, and trending topics, among other factors.
More information on Mashable.
Facebook reaches 1.44 billion monthly users mark
Facebook announced its Q1 earnings in a report earlier this week, and the findings showed incredible numbers for the biggest social network, highlighting that there are now 1.44 billion monthly average users on average. The number shows an increase of 13 percent year over year. The report goes on to cite that 1.25 billion of these were mobile users, an increase of 24% from the same period last year. Daily usage for Facebook has also increased, with 936 million daily users, which is a 17% increase from last year.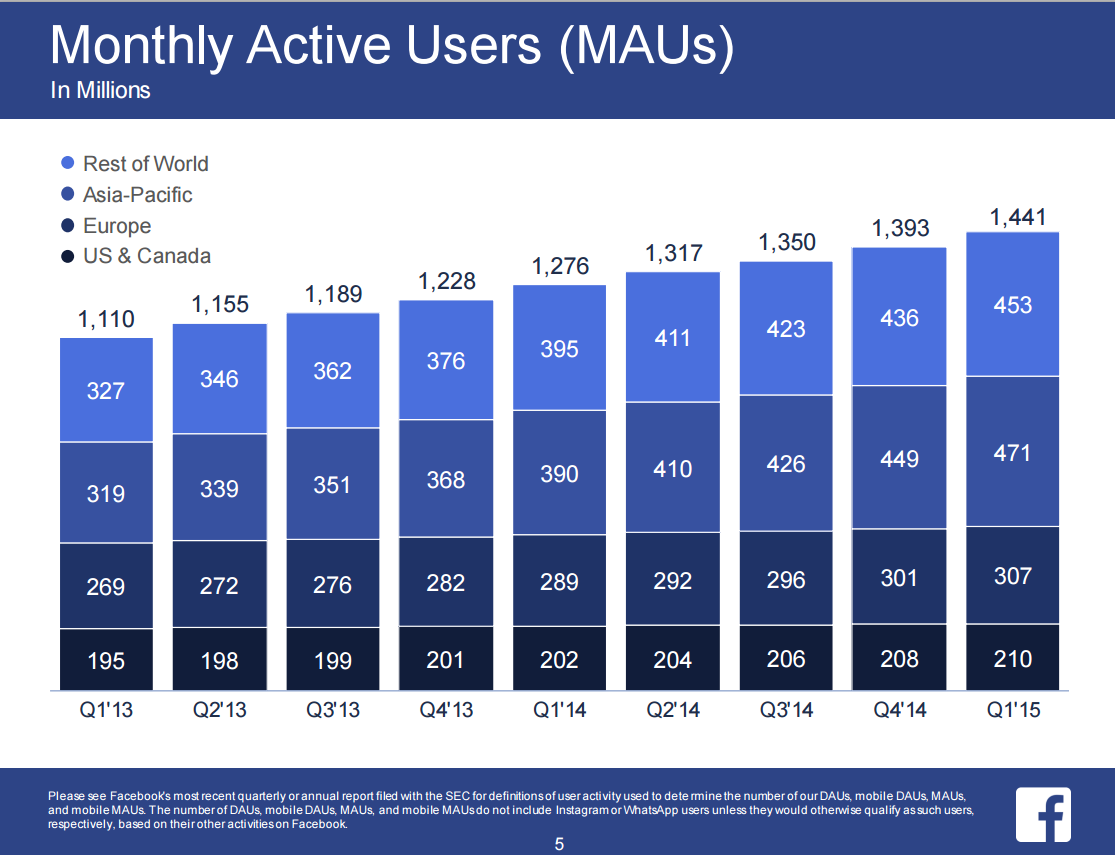 Read more on VentureBeat.