Monday, June 22nd, 2015
Pinterest improves its search function
Earlier this week through a blog post, Pinterest announced several updates for its search function. Previously, when users searched for anything, the results were filtered beneath Pins, Pinners, and boards. Now when users post, they will immediately see relevant results for them as they are typing, similar to search functions on Google. The announcement also went on to confirm stipulating verified accounts, which will have a checkmark on them within the search results. Once results are tapped, users can filter within the aforementioned categories.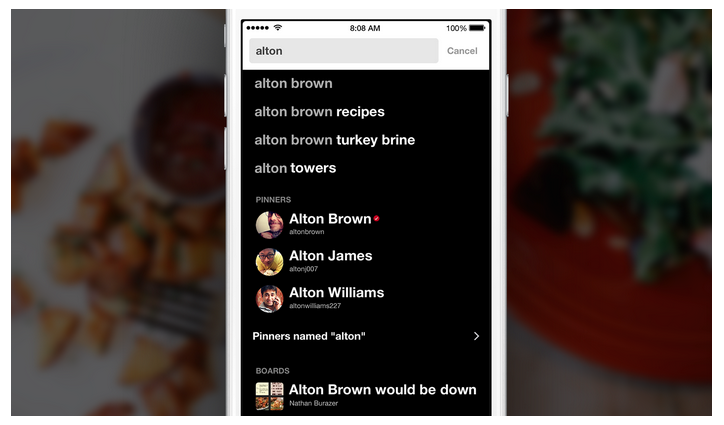 Read more on Pinterest Blog.
Study suggests brands rarely respond to fan comments on Facebook
In a study done by Locowise, a social reporting company, it was found that 87% of posts to brand Pages by consumers on Facebook go unanswered. The study was completed from 900 Pages that account for more than 3 million likes. Part of the reason for low response rates on Facebook is that only 51% of the Pages studied allowed users to add comments to the Page. Furthermore, 65% of Pages that allow users to post did not respond to a single user comment. Out of the roughly 10 percent of Brands that responded to every post, the majority of them had 3 or fewer posts to respond to per month.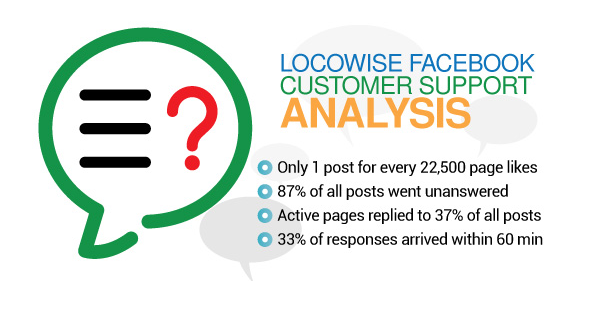 Read more on Locowise.
Twitter unveils auto-play videos
Earlier this week, Twitter announced the arrival of auto-play videos, something that rivals like Facebook have been doing for awhile to increase the number of views that videos get. What makes this news even more interesting for advertisers is that if a user does not watch the video with the entire frame viewable for more than 3 seconds, there will be no charge for that ad engagement. There will be no sound on the videos that are auto-played until a user clicks on it, so the visual nature of the video will be a paramount consideration for advertisers.
Read more on Twitter Blog.
Majority of social network users are on messaging apps
In a new study from GlobalWebIndex, it was found that users of top social networks, such as Facebook, Instagram, and Google+, are also users of mobile messaging apps. 80% of active Facebook users also use messaging app, and the percentage increases for other networks, with 82% for Twitter and Google+, and 86% for Instagram. GlobalWebIndex said in a statement to Social Times that this is not indicative of users migrating away from top networks, but that people are using sites like Facebook less intensively, such as using it to only check their news feeds rather than posting and interacting.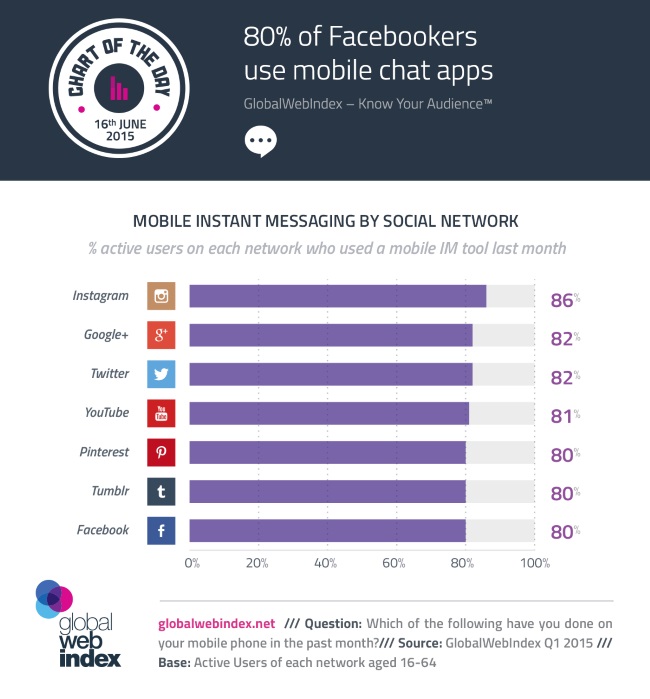 Read more on Social Times.
Pinterest introduces Marketing Developer partners
Pinterest announced back in April its Marketing Developers Program, an organization based around building tools to help optimize Pinterest Marketing. On its business blog earlier this week, Pinterest introduced its first set of partners, diverse businesses each utilizing Pinterest's ads API. According to the blog post, brand partners that are working with Pinterest MDP companies are seeing improvement in referral traffic and revenue.
More information on Pinterest Business Blog.
Facebook testing new 'See First' functionality for news feed
Facebook is expanding what users are able to do to help customize their news feed, an expansion of the tests it was doing in April. The new feature, called 'See First', allows users to specify what content they want to see from friends and Pages. This is in contrast to the previous set up of the news feed, which would automatically prioritize what content was shown to a user based on their behavior while logged into Facebook. As this test is going on with a larger group of users, it is likely that the feature will make it into wider distribution in the coming months.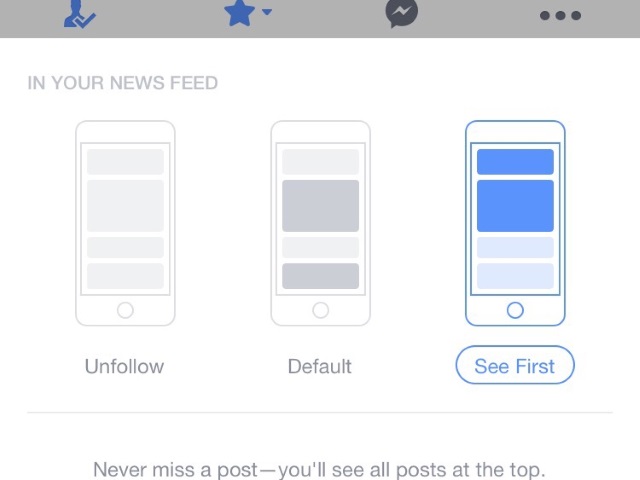 Read more on Social Times.
7 in 10 Snapchat users are also on Facebook Messenger
In a study done by GlobalWebIndex to show what other messaging apps Snapchat users are on, Facebook Messenger is the leading app, with 72% of Snapchat users on the service. The next apps falls farther behind, with WhatsApp at 54%, and Skype at 51%. Other popular messaging applications such as Viber, LINE, and WeChat, all fall in between 22-24%. The findings of the report go on to say that the norm is to use multiple messaging services simultaneously, versus the previously understood behavior that each user would stick to a single favorite.
More information on GlobalWebIndex.
YouTube and Storyful team up to launch Newswire
Working in a partnership with Google, the social news agency Storyful has created the YouTube Newswire, with the intent of sourcing verified news clips to feature on a channel for user consumption. The genesis of the idea came from users watching online video on social from questionable sources, and the YouTube Newswire seeks to cut through clutter and spam content. Previous to starting YouTube NewsWire, Storyful started Facebook Newswire, and FB Techwire.
More information on The Next Web.
Twitter testing new icons for Favorites on Android
Some Twitter users on Android are seeing a heart icon now for Favoriting a tweet, as opposed to the star icon, which has been the standard since the inception of the feature. There are two visual variations of the heart icon, one that is contained within a circle, and one that is borderless. It is speculated that testing the heart icon is in response to a memo written by Twitter investor Chris Sacca, who said, "Bring on the hearts", when talking about what Twitter could potentially achieve, going on to say, "If Twitter integrated a simple heart gesture into each Tweet, engagement across the entire service would explode".
More information on Mashable.
Twitter debuts product pages and searchable collections
As part of moving into more e-commerce with its service, Twitter back in April debuted a Buy Now button for its advertisements, and now it has created specific product pages to help consumers learn more than they could through a single tweet which most often requires an off-site link click. The curated pages will include multiple related tweets, along with the ability to purchase the highlighted item. Twitter will also let specified partners create collection pages, focused around specific themes.
More information on TechCrunch.